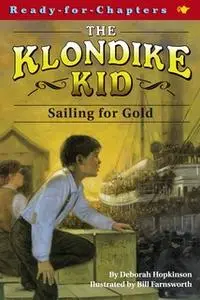 «Sailing for Gold» by Deborah Hopkinson
English | ISBN: 9781439113523 | EPUB | 1.0 MB
Gold Rush!
Seattle, July 1897
Ever since his mother died, Davey has had a secret plan: He's saving his money so he can run away to Alaska to find Uncle Walt, the only relative he has. No one is going to stop him – not even mean Mrs. Tinker, who owns the Seattle boardinghouse where Davey lives and works.
When gold is discovered in the Klondike, Davey is convinced that's where he'll find his uncle. But then Davey's money disappears, and with it his hopes of finding his uncle – until Davey comes up with a new, much more dangerous plan.