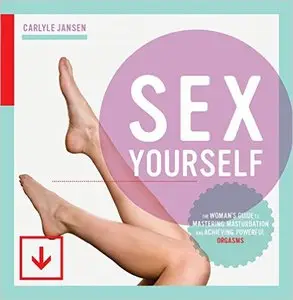 Sex Yourself: The Woman's Guide to Mastering Masturbation and Achieving Powerful Orgasms
English | EPUB | ISBN-10: N/A | ASIN: B0102QNQQQ | 2015 | 176 pages | 8 MB
Everyone knows sex in a long-term relationship can get stale sometimes. But isn't the same true for masturbation? Just like a familiar sexual relationship, where you fall into a pattern using the same moves and positions, masturbation can become routine and frankly boring. Just because you're only getting yourself off doesn't mean you don't deserve an exciting, satisfying experience.
Sex Yourself teaches women how to reach orgasm and how to have better orgasms by themselves. Learn how the amazing experiences you have alone can be re-created with a partner, helping to enhance your sexual relationships. Try new techniques and accessories to have mind-blowing sex in brand new ways.
Sex educator Carlyle Jansen provides a modern look at masturbation, self-love, and orgasm that features fun yet informative full-color illustrations throughout.
Welcome to the best eLearning video (English, German, French, Spanish language) and many more:
LINK
Do not forget to check my blog! Updated regularly! Add in bookmarks my blog :)
PM me if Links not working!
No mirrors pls!