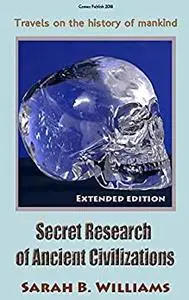 Secret Research of Ancient Civilizations: Travels on the history of mankind by Sarah B. Williams
English | 2020 | ISBN: N/A | ASIN: B08HGY7V4H | 731 pages | AZW3 | 1.36 Mb
This is an extended edition, revised and updated. It contains interesting information about the Templers, describes the journey to the treasures of Manila Bay and also published a magical story about the beautiful Nefertiti.
This book is a large collection of historical articles that are devoted to unclear points in the culture and technology of ancient humanity. In it you can get acquainted with the most courageous assumptions and hypotheses of scientists about the lost civilizations and the mysteries of the origin of technologically developed human cultures.
Thousands of years ago, people settled in the most different corners of the earth, even in those places where it seemed impossible to survive.
Each of the ancient civilizations has left its mark in history and world culture. How did people live in those days? Why and how were such monumental buildings erected in their cities? How can one explain the amazing discoveries that many of their representatives have made? So, go to the depths of ancient and modern research and discovery!
Content:
Extended Part:
Secrets of ancient Egyptian statues
Mysterious beauty Nefertiti
Legends about the gods who flew in winged chariots
Silver Fog of Manila Bay
Chichen Itza. Spanish conquest
Templars, history footnotes
The Mystery of the Great Sphinx
Countess Bathory's bloody rejuvenating baths
Culture Slavs
Riddle of Easter Island
Damned Florentine Diamond
Druids and Stonehenge
Main Part:
Hyperborean built the Egyptian pyramids
Did Noah save dinosaurs?
Cradle of civilization
Alien technology of ancient Egypt
Sacred fences of antiquity
The fall of the Inca Empire
Atlantis - the lost paradise of mankind
Ancient underground cities
Mystery of the Terteri tablets
In search of the mysterious Hyperborea
Time capsules
Children of the Gods
The mystery of the death of ancient civilizations
Technique in antiquity
What were the Sumerians?
English archaeological thriller
Artifacts of Ancient Egypt
The largest underwater treasure
Mysterious Sufis
Who are the Aryans and where is their ancestral homeland?
Marie - the city after the flood
Amber is more expensive than life
Filibusters of the northern seas
Beyond the wonders of the world to Yucatan
Cipher of the Great Pyramid
Secrets of the ancient Picts
Assyrians. March of the indestructible
The secret life of pirates
Kachina - heavenly hopi teachers
Megalithic Sanctum of Malta
Temple Abu Simbel
Tutankhamen from Sipan
Stonehenge. Alternative views
Sumerians and aliens
Time capsules
Children of the Gods
Legendary Atlantis
Feel Free to contact me for book requests, informations or feedbacks.
Without You And Your Support We Can't Continue
Thanks For Buying Premium From My Links For Support