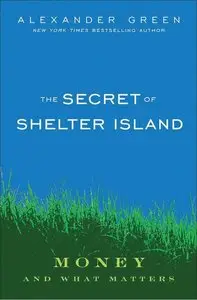 Alexander Green, "The Secret of Shelter Island: Money and What Matters"
Wiley | 2009 | ISBN: 0470482281 | 265 pages | PDF | 1,9 MB
Most of us devote a substantial percentage of our waking hours to making, spending and having more. This desire to accumulate is natural. But when a bigger bank balance – or the things it can buy - becomes our animating purpose, disappointment generally follows. In The Secret of Shelter Island, nationally renowned financial analyst and bestselling author Alexander Green explores the complicated relationship we all have with money and reveals the road map to a rich life.
The timing could hardly be better. After more than twenty-five years of virtually uninterrupted prosperity, the U.S. economy has hit a rough patch. Yet to the extent that downturns like the current one shake up the status quo and force us to re-examine our goals and priorities, they also offer enormous opportunities. The Secret of Shelter Island provides an ideal starting point. Drawing on some of today's best minds and many of history's greatest thinkers, it is both a much-needed source of inspiration and an insightful look at the role of both money and values in the pursuit of the good life.
The book is arranged around four central themes. In Part I, "A Rich Mind," Green explores such key questions as: How important is money in your life? What is it giving you? What is it costing you? In Part II, "What's Most Important," he discusses how to calculate your real net worth—without using a financial statement. In Part III, "Attitudes of Gratitude," he offers powerful insights based on a deceptively simple philosophy of life. In the final section of the book "The Search for Meaning," he delivers a refreshing take on the universal principles that guide us all – or should. The Secret of Shelter Island is full of practical wisdom. More than just a personal philosophy, it is a profound and utterly modern commentary on timeless values, the search for meaning and what it means to be truly wealthy.
Not all books on AvaxHome appear on the homepage.
In order not to miss many of them follow
ebooks section
(see top of each page on AH)
and visit
my blog
too :)
NO MIRRORS according to the rules