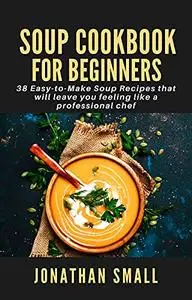 Soup Cookbook For Beginners: 38 Easy-to-Make Soup Recipes that will leave you feeling like a professional chef
English | 2021 | ISBN: B09989ZGSH | 67 pages | PDF,EPUB,AZW3 | 770 KB
SOUP COOKBOOK FOR BEGINNERS!!!
GET THE BOOK NOW FOR PROMO PRICE OF $2.99
I never enjoyed cooking. It felt too much like an arduous task. I was not lazy as I could do the dishes and the laundry. Cooking just wasn't my thing. I told my parents that I'd hire someone to cook my meals when I was old enough. Well, all of that changed when I met Carol.
We were in high school at the time, and she seemed to always be on about the new recipe she'd found. I wanted to win her heart because she was such a loving soul. The only way I could get her to notice me was…
You guessed right. You can't even imagine the shock on my mum's face when I told her I wanted to learn to cook. It was hard at first. The first dish I prepared was roasted chicken with carrot. You would think that was easy. However, it wasn't. If there were a Grammy for the worst cook ever, I would have won the award that night flawlessly.
Well, I learned how to cook and soon fell in love with cooking soups. The reasons are pretty obvious. They were easy to make, got better with time, and always seemed to make me feel like the chef I so much wanted Carol to think I was.
I got her attention at last.
Maybe your case is distinct. You're not looking to win over your dream girl with a pot of soul. Perhaps you just want to learn or prove a point. Well, this book is for you.
In this book, you will get
Amazing soul recipes that everyone will appreciate
The correct amount of ingredients to produce the best taste
The number of servings each meal would produce
Hurry now and click the BUY NOW button while the price is still low. This is one cookbook you WON'T regret buying.