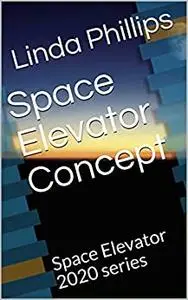 Space Elevator Concept: Space Elevator 2020 series by Linda Phillips
English | October 14, 2020 | ISBN: N/A | ASIN: B08L75MPDS | 85 pages | MOBI | 0.87 Mb
The concept of a Space Elevator started over a century ago but started to move from science fiction to reality in the 1990s with the promising advent of a super strong material, carbon nanotubes, that theoretically had the strength to build a ribbon into space.
NASA started investigating the concept which led to the publication of the first detailed analysis of whether it was possible, written by Dr Brad Edwards, in a NIAC paper.
Early excitement of an immediate breakthrough, maybe even constructing one by 2010, gave way to the reality of producing carbon nanotubes of the required strength, outside the laboratory, in commercial quantities. As I write, in 2020, we are still awaiting this breakthrough and the project has moved back to the late 20s, maybe the 2030s or 2040s.
But it will happen, and when it does, it will replace rockets as the easier and cheaper way to leave Earth, opening up space travel the way airplanes opened up world travel.
This series examines the technical aspects and how it will be deployed.
The first book in the Space Elevator 2020 series covers the history of this exciting project.
Feel Free to contact me for book requests, informations or feedbacks.
Without You And Your Support We Can't Continue
Thanks For Buying Premium From My Links For Support