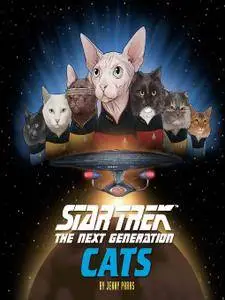 Star Trek: The Next Generation Cats by Jenny Parks
English | March 27th, 2018 | ASIN: B077W2V3G8, ISBN: 1452167621 | 64 Pages | EPUB | 6.72 MB
The cats are back in their continuing mission: to boldly go where no one has gone before. This companion to the bestselling Star Trek Cats brings the many adventures of Star Trek: The Next Generation to life in a faithfully feline homage to the hit series. From encounters with the Borg to adventures on the holodeck, Captain Picard and the rest of the U.S.S. Enterprise NCC-1701-D crew are reimagined as cats with lovingly detailed and eyebrow-raising scenes from throughout the award-winning series, perfect for Star Trek fans across the Galaxy.