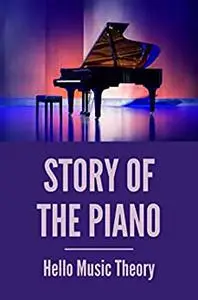 Story Of The Piano: Hello Music Theory by Tana Schellhase
English | 2021 | ISBN: N/A | ASIN: B09MDJYJFM | 145 pages | EPUB | 0.21 Mb
The piano was invented by Bartolomeo Cristofori (1655-1731) of Italy. … The instrument was first named "clavicembalo col piano e forte" (literally, a harpsichord that can play soft and loud noises). This was shortened to the now common name, "piano."
For more than forty years, the author tuned and repaired pianos in all types of venues, from large concert halls to private homes. In this book, he provides a unique, behind-the-scenes perspective of performances ranging from major orchestra concerts to children's recitals. Always with an eye for the unique and special experiences music can provide, he offers a compassionate account of many of the people, both famous and private, that he has met over the years. His goal in writing this book is to enhance the reader's interest in this fascinating instrument, the piano.
Feel Free to contact me for book requests, informations or feedbacks.
Without You And Your Support We Can't Continue
Thanks For Buying Premium From My Links For Support