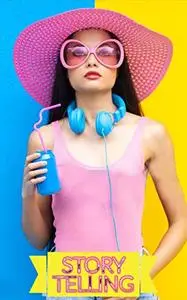 Story Telling and Story Writing: Storytelling on Ted Talks, Business, Public Speaking by Narendra Mohan Mittal
English | 2018 | ISBN: N/A | ASIN: B07LGZW284 | 455 pages | MOBI | 11 Mb
Why Stories?
We all tell stories. It's one of the most natural ways to share information, and it's as old as the human race. This book is about how to use a skill you already possess in a new way: in the field of user experience (UX) design.
As a part of user experience design, stories serve to ground your work in a real context. They let you show a design concept or a new product in action, or connect a new idea to the initial spark. But most importantly, they help you keep people at the center of your work.
It's no doubt that storytelling or public speaking is one of the most feared activities on the planet.
The main purpose of this ebook is to help you cut off many of your bad beliefs about speaking in public and storytelling and teach you how to tell your story or speech effectively to any sized audience in funny and easy ways.
Ultimate Public Speaker's and TED talk Storytelling Guide
The best speakers on the TED stage were the ones who had mastered the art of storytelling. Getting these skills and techniques for storytelling and story writing is useful for:
1. How to plan and deliver an effective speech.
2. How to Wow your audience through storytelling
3. Master strategies for public speaking
Inside The Book
1. Ways to Tell Stories
2. How to choose Medium for your Story
3. Why Stories?
4. What is a story?
5. How to Tell stories with Data
6. Focus your Audience's Attention
7. How to put the Story Together
8. How to Tell the story and Public Speaking
9. Developing Structure and Plot for Story
10. Lessons in Storytelling Ted Talk
11. The Magic of the Story
12. How to Collect Stories
13. How to Listen for stories
14. Tips for Collecting stories
15. Selecting Stories for Analysis
16. Building stories into personas
17. The Ethics of Stories
18. Using Stories for Design Ideas
19. The Narrative Structure
20. Sound Effects
21. Design Wonderland
22. Create, share, and network
23. Final Thoughts
Total Pages 463
Who this book is written for
This book is written for anyone who needs to communicate something to someone using data. This includes analysts sharing the results of their work, students visualizing data, managers needing to communicate in a data‐driven way, philanthropists proving their impact, and leaders informing their board.
The goal of This Book
Another goal of this book is to help you build confidence for storytelling and story writing and make you become a productive public speaker and storyteller.
What is a story?
Story and storytelling are such big concepts that we'd better start by defining what kinds of stories are helpful in user experience design.
In this book, we will be focused on stories whose goal is to describe or communicate some aspect of user experience. We will include scenarios, user stories, stories for personas, storyboards, (some) narrative use cases, and many other story forms that are part of different user experience methodologies.
As far as the mechanics go, we'll include all forms of storytelling:
• A story can be written or spoken.
• A story can be told through pictures, moving images, or words.
• A story can be told life or through recorded audio or video.
A story can have a beginning, middle, and an end—usually, though not necessarily, in that order—or it can simply suggest a time and place.