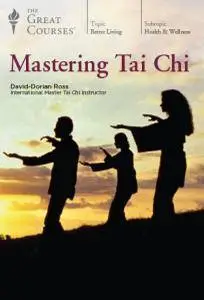 Mastering Tai Chi
HDRips | M4V/AVC, ~1987 kb/s | 1280x720 | Duration: 12:31:55 | English: AAC, 192 kb/s (2 ch) | + PDF Guide
Size: 11.4 GB | Genre: Tai Chi
Tai chi is one of the most remarkable and practical philosophies ever devised. It combines the pursuit of health and longevity, the martial practice of self-defense, and the lofty—but attainable—ideals of harmony and balance. It promotes relaxation, joy, compassion, positive growth, and flow. Tai chi gives you a set of mental tools you can apply in all areas of your life, and it helps you learn to achieve your goals with the minimum effort for the maximum result.
Best of all, tai chi is accessible to everyone, regardless of your current level of physical fitness. The movements are designed to emphasize and improve your body's natural, healthy posture, so that instead of struggling to perform strenuous motions, you playfully relax into a gentle flow. The philosophy of tai chi can be applied comfortably within any spiritual framework, or none at all. The concepts of merit and virtue, of authenticity and mindfulness, of kindness and service to community and the world—all of these are values to be cherished by any thoughtful person who seeks a happy and meaningful life.
Mastering Tai Chi is your invitation to step onto the path of greater health, strength, wisdom, and compassion. These 24 half-hour lessons taught by International Master Tai Chi Instructor David-Dorian Ross, take you deeply into what is traditionally called tai chi chuan (taijiquan), while focusing on a routine known as the Yang-style 40-movement form. As you learn this form, you also:
study the principles of tai chi—physical and philosophical guidelines that frame the essential concepts of the practice.
delve into tai chi's long history, contemplating the contributions of the sages who composed the tai chi classics, the Dao De Jing, the I Ching, and other priceless philosophical texts.
envision an imaginary opponent to engage the martial aspects of the practice, then connect with a real partner in "Push Hands"—a tai chi game for two
learn advanced techniques, including silk reeling and silk pulling, that are rarely taught.
discover the transformational power of your focused intention and willpower to achieve your goals.
The course is excellent for beginners, as Professor Ross breaks down arm motions, body positions, and footwork for each movement. He shows you how to sink into and feel the posture, then smoothly transition and maintain your flow. Compared with the 24-movement form and instructional approach in Essentials of Tai Chi and Qigong, this course offers a more extended and deeper familiarity with Yang-style tai chi via the 40-movement form, which incorporates and builds upon movements from the shorter sequence.
Following traditional methods for a private, "indoor student," you'll consider ideas from the tai chi classics, and you'll also encounter many new concepts and applications. Even those who have previously taken tai chi classes in person or studied with an instructor will gain knowledge from the depth and breadth of the presentation, the attention to each detail of the form, and the consideration of foundational philosophical principles and their application, both for better movement and in everyday life.
Look other Qi Gong videos:
Understanding Qigong DVD 1
Understanding Qigong DVD 2: Keypoints of Qigong / Qigong Breathing
Understanding Qigong DVD 3: Embryonic Breathing
Understanding Qigong DVD 4: Four Seasons Qigong
Understanding Qigong DVD 5: Small Circulation
Understanding Qigong DVD 6: Martial Arts Qigong Breathing
Qi Gong for Healthy Digestion
Qi Gong for Healthy Joints and Bones
Qi Gong for Low Back Pain
Qi Gong for Self Healing, Self Love and Self Mastery
Qi Gong for Stress
Qi Gong for Upper Back and Neck Pain
Qigong Massage
Taiji Ball Qigong: Volume 1-2
Spring Forest Qigong: Level 1-4
Tai Chi for Health: Yang Long Form
Tai Chi - Sun Style 73 Forms
Relax with Hun Yuan Tai Chi Fa Soong Gong: Foundation Exercises
Boost Your Energy with Hun Yuan Tai Chi Qigong
Increase Your Flexibility with... Si Gong: Foundation Exercises
Experience the Healing and Cal...itting and Standing Meditation
Qi Gong: Discover the Ancient Art
Sexual Vitality Chi Kung
Yadi Alamin – Male Sexual QiGong
Ken Cohen - The Essential Qigong Training Course
Essentials of Tai Chi and Qigong
Tai Cheng Master Kit
Mantak Chiab - Complete Taoist Studies Series
Bruce Kumar Frantzis - Tai Chi Mastery Program
Welcome to the best eLearning video (English, German, French, Spanish language) and many more:
LINK
Do not forget to check my blog! Updated regularly! Add in bookmarks my blog :)
PM me if Links not working!
No mirrors pls!