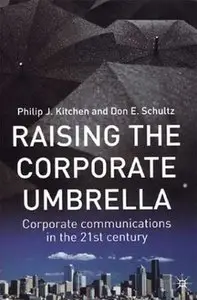 Philip J. Kitchen, Don Schultz, "Raising the Corporate Umbrella: Corporate Communications in the Twenty-First Century"
Publisher: Palgrave Macmillan | 2001-11-17 | ISBN 0333926390 | PDF | 432 pages | 1.55 MB
Corporate Communications is now in the success of companies and organizations. Raising the Corporate Umbrella is a review of the key issues that are critical to master if your corporate communications and public relations strategy is to be a success. The authors introduce the theoretical framework necessary to analyzing corporate communications strategies, but throughout they draw also on the experiences and opinions of leading practitioners worldwide and provide clear practical guidelines for successful implementation. Cases and examples from internationally recognized companies, such as Body Shop, Texaco, Johnson & Johnson, iMAC, BP Oil, and British Airways keep the style lively and relevant. A must for anyone involved in corporate communications, public relations or public affairs, especially those working in multi-national or global organizations.