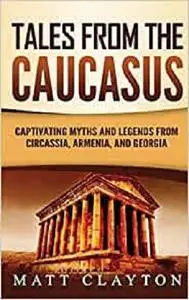 Tales from the Caucasus: Captivating Myths and Legends from Circassia, Armenia, and Georgia by Refora Publications
English | March 17, 2021 | ISBN: 1953934250 | 102 pages | EPUB | 0.40 Mb
Did you know that the Caucasus region is home to a variety of myths and legends, some ancient, some medieval, and all influenced in some way by interactions with outside cultures?
The Caucasus Mountains straddle the isthmus between the Caspian Sea and the Black Sea. The location of the Caucasus region has made it a crossroads for travelers, traders, and invaders from Europe, Asia, and the Middle East alike. Many of the languages spoken in the Caucasus are unique to the region, while others are related to Turkic and Indo-European languages.
This region's myths and legends are not as well known to outsiders as the mythologies of places like ancient Greece or ancient Egypt. The Circassian and Armenian genocides took their toll, as did the Soviet occupation, the last of which purged much of the native culture. Nevertheless, much of the mythology and literature of the Caucasus still survives today.
In this book, you will get a brief but captivating introduction to some of the fine tales created by the resilient people who call this part of the world their home.
Here is just a small fraction of what you'll discover:
Tales about the Circassian hero Sosruko and his friend, the blacksmith god Tlepsh
How Tlepsh went looking for knowledge at the end of the world and met Lady Tree
Just-so tales about the origins of earthquakes, thunder, and the Milky Way
Influences from Persian literature on stories from Armenia and Georgia
A fairy tale about a merciful exiled prince and his clever servant
The adventures of the bold knights Avtandil and Tariel, both brave as lions and desperately in love with their fair ladies
And so much more!
Feel Free to contact me for book requests, informations or feedbacks.
Without You And Your Support We Can't Continue
Thanks For Buying Premium From My Links For Support