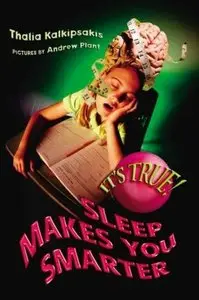 Thalia Kalkipsakis - It's True! Sleep Makes You Smarter
Allen | 2007 | ISBN: 1741148626 | Pages: 96 | PDF | 5.40 MB
Psst! It's true! This is the best book on SLEEP you'll ever read!
Did you know that astronauts don't snore? And that lack of sleep can kill you faster than starvation?
Dive under the doona and find out the facts on sleep. Horses do it standing up, ducks with one eye open. Pop stars invent catchy tunes while they are snoozing. A nightmare about cannibals leads to the invention of the sewing needle. From snoring to ejector beds, bedbugs to why we dream, it's all here, between the sheets.
Wake up to the wacky world inside your brain at night.