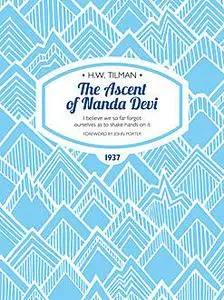 «The Ascent of Nanda Devi» by H.W.Tilman
English | EPUB | 7.5 MB
'I believe we so far forgot ourselves as to shake hands on it.' — H. W. Tilman, on reaching the summit of Nanda Devi. In 1934, after fifty years of trying, mountaineers finally gained access to the Nanda Devi Sanctuary in the Garhwal Himalaya. Two years later an expedition led by H.W. Tilman reached the summit of Nanda Devi. At over 25,000 feet, it was the highest mountain to be climbed until 1950. The Ascent of Nanda Devi, Tilman's account of the climb, has been widely hailed as a classic. Keenly observed, well informed and at times hilariously funny, it is as close to a 'conventional' mountaineering account as Tilman could manage. Beginning with the history of the mountain ('there was none') and the expedition's arrival in India, Tilman recounts the build-up and approach to the climb. Writing in his characteristic dry style, he tells how Sherpas are hired, provisions are gathered (including 'a mouth-blistering sauce containing 100 per cent chillies') and the climbers head into the hills, towards Nanda Devi. Superbly parodied in The Ascent of Rum Doodle by W.E. Bowman, The Ascent of Nanda Devi was among the earliest accounts of a climbing expedition to be published. Much imitated but rarely matched, it remains one of the best.