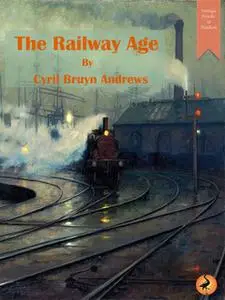 «The Railway Age» by Cyril Andrews
English | ISBN: 9781910226094 | EPUB | 23.0 MB
This Vintage Words of Wisdom title was first published in 1937. Ninety-nine years earlier, in 1838, the London and Birmingham Railway was opened: the first intercity railway into London with its terminus at Euston and providing a direct connection to Coventry, Birmingham and onwards to the North-West. This signalled an acceleration in the construction of railways and a period of railway mania that swept the country. As Cyril Andrews explains in The Railway Age, the age of steam trains brought about fundamental transformations to the nation. It changed the landscape, demanded new engineering and technological advances, opened up new opportunities for commerce and, perhaps most importantly, ushered in changes to society as people now had the means to travel further, faster and easier than ever before.
The social impact of the railways is well covered. The author considers the effect upon the various strata of society and how railways improved the working lives of those like the commercial traveller, introduced the concept of the commuter and enabled those in want of entertainment. Apparently 15,000 people in 1848 travelled by train to Coventry to see a revival of Lady Godiva's ride through the streets!
Profusely illustrated with over 80 plates and photographs and accompanied by 50 line drawings and cartoons, The Railway Age takes a broad approach to railway history that considers more the impact and effect that railways had than just the technology of steam engines. So we read about the influence of Brunel, railway station architecture, railway hotels, speculators and the beginnings of the London underground, with the text interspersed with contemporary accounts, poetry and popular songs of the period. There are several lithographic plates by the famous early railway artist J.C. Bourne, as well as Punch cartoons, entries from The Comic Bradshaw and many other rare and fascinating images. Often amusing and surprising, The Railway Age is a welcome addition to the Vintage Words of Wisdom series and will appeal both to the railway enthusiast and to anyone with an interest in social history and, in particular, the effects of the industrialisation of Britain.