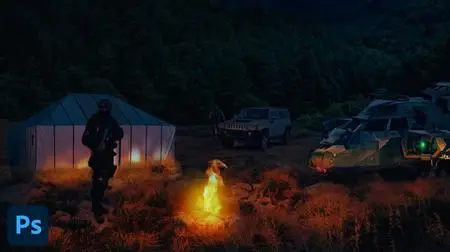 The Ultimate Photo Manipulation Course
Duration: 2h 40m | .MP4 1280x720, 30 fps(r) | AAC, 48000 Hz, 2ch | 1.62 GB
Genre: eLearning | Language: English
Learn Essentials Of Photo Manipulation
A true photo manipulation tutorial should teach you how to create seamless digital projects, ready to be a part of any movie or a game or exhibited in a digital gallery.
Hence, it should take your Photoshop skills to the next level. However, not all tutorials are the same.
Some go too fast or don't explain well enough. Others go too slow and bore you halfway through.
Some tutorials include just chunks of information and let you figure out the rest by yourself.
You need a photo manipulation tutorial created by a professional with pedagogical skills, and a teacher who understands your struggle and knows how to make Photoshop work in your favor.
Moreover, you need the right information as editing in Photoshop is a vast topic.
Photo manipulation requires only a part of the program's functionalities.
You know very well there are a lot of them. So you don't want to waste time with the tools and shortcuts you'll never use.
Instead, the tutorial should extract what's valuable for a digital artist and place it in the context of photo manipulation.
You'll see soon enough that Photoshop skills usually aren't enough for a digital artist or illustrator. That's because digital art also includes video and audio editing. 
Therefore, you should look for a comprehensive tutorial that guides you all the way through and covers much more than image processing software.
But where can you find this photo manipulation tutorial that covers all important aspects of becoming an established digital artist? Well, we have the answer right here!
Here's A Sneak Peek Into This Course
Step 1: Adding a Background
Step 2: Adding Subjects
Step 3: Transforming Day To Night 
Step 4: Applying the Light Effect
Step 5: Adjusting the Light
Final Composite Image
Create Amazing Photo Manipulations
Embark in a new adventure and take your first photo manipulation tutorial from a professional digital artist and illustrator with more than 9 years of experience.
He will teach you all the secrets that he has developed over time and shows you how to produce amazing digital art yourself. The best tips and tricks you can find!
The material covers the entire editing process from overlaying multiple images to fine-tuning your digital artworks.
Although much of it relates to Adobe Photoshop, the final touches will be made in Adobe Premiere.
As you know, it isn't enough to take parts of an image and place them in another image.
Photo manipulation means seamless editing, matching lighting, and smooth color grading.
No one should know what the image looked like before it was edited. Photo manipulation is all about mystery and fantasy.
Therefore, step by step, the videos will explain you how to merge images and create collages, do color and light corrections, explore color grading, and set up lighting.
After you master the basics of photo manipulation, you can export your work in a format of your choice. The tutorial will teach you which are the most popular video formats and how to export your work.
Before sharing your digital art, a few fine-tune adjustments are required. But those you'll be doing in Adobe Premiere as Photoshop doesn't know how to edit videos.
This is a complete tutorial you can use for any art project, including concept art for games and movies.  The only limit is your imagination. So start learning and bring your imagination to life.
Get this amazing photo manipulation tutorial for just $29 and learn how to transform your photographs into digital artworks from a professional.