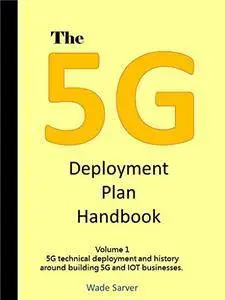 The 5G Deployment Plan Handbook: Volume 1, 5G technical deployment and history around building 5G and IOT businesses (5G Deployment Handbook) by Wade Sarver
English | 29 Jan. 2017 | ISBN: 1520485573 | 146 Pages | PDF (conv) | 1.93 MB
The basics of 5G from a deployment perspective. This book is not covering the technical details of the radio equipment or chips, Qualcomm and Intel have done a pretty good job of covering that. Don't worry, Nokia, Ericsson, and Samsung will explain it to the carriers with great detail. The goal was to respond to all of your questions about the practical deployment of 5G in today's wireless networks. How can others outside of the carrier domain deploy? You wanted to know the foundation, well here it is. Business case summaries and all.
From the author of the blog,
www.wade4wireless.com
and the founder of
www.techfecta.com
.
Here is another installment of the Wireless Deployment Handbook (WDH) series. Many people ask me about 4G and 5G and how we get there from here. Well, since you asked I thought I would cover the deployment part of the networks. Are you interested in how to deploy and how the transition happens?
You all know that 5G is coming and it is going to open the doors to new applications such as wireless virtual reality, new IOT ideas, Artificial Intelligence applications, low-latency offerings, wireless cloud computing, and so much more. It's a game changer if it's done right.
Will the network be more than a cool this? It's becoming a necessity for any of us to do business. The broadband connections need to be made available anywhere making this the new utility. We already see it with the mandates coming from the US Government that broadband is a necessity for growth and business. We all need electricity in our homes, right, now let's add broadband. The telephone has been replaced with the broadband connection. The difference is that the phone was in every home, now the phone and a broadband connection is with you every minute of the day, by your side as a smartphone, tablet, or laptop. We all feel the need to be connected most of the time.
This constant connection is such an addiction in most countries that we see addictions to being connected. The need to stay in touch has totally overwhelmed some people, even me. I now know that I can manage my priorities in life.
Staying connected can be a good thing. Look how families can live remote yet communicate every day for pennies. They don't have to talk, but they can text and take pictures. Remote family members can see their relatives, children, grandchildren, nieces, nephews, aunts, uncles, brothers, and sisters daily and even over holidays without taking the time or expense to visit. We can talk anytime and share those special moments with all of them with the click of a button on your smartphone. How cool is that? See, technology is a good thing when properly managed.
So, let's dive into the networks that make all of this happen. Let's look at the new generation, 5G, and how to deploy it so that we don't let these families down. Let's support them and increase the functions and ways to stay in touch. Let's make all of this happen. It is up to you, the deployment teams, the unsung heroes that make this happen with little or no recognition from anyone, even the customer who wanted this system. Sure, they will take most of the credit, but you have the bragging rights knowing that they could not have done it without you! Congratulations on taking the first step her, now, today!