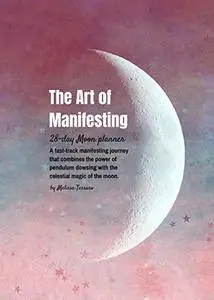 The Art of Manifesting: Manifesting with the Moon - A 28 Day Moon Planner with dowsing charts by Melissa Tessaro
English | 2020 | ISBN: N/A | ASIN: B089RQBCXX | 108 pages | EPUB | 27 Mb
Are you manifesting as fast as you would like? Do you know how to tap into your greatest resource and become a magnet for manifestation? If not then it's time to access new and powerful portals of magick.
The celestial energy of the moon is a highly charged elemental powerful resource that you can tap into easily to bring in new wisdom and awareness. This book will show you that you have the ability to manipulate timelines and open doorways as you align with the consciousness of celestial energy.
Most moon rituals don't dig deep enough to clear deeply held limitations and blocks in order to see fast and rapid results. However this book does not just discuss one or two moon rituals but will take you on a detailed expansive journey of self-development and inner personal growth. It is designed to maximise your manifesting power and provide a complete roadmap for transformation at a soul level.
Melissa is a bestselling amazon author who has written 17 books on magick, alchemy and divination and helps her students demystify and unlock their own power to bring forth their own inner magic using dowsing charts, pendulum commands and divine channelled guidance.
In The Art of Manifesting you will discover energy streams that contain magic and power, learn how to clear negative emotional charges from past, learn how to make celestial moon charged water and which time of the month is most powerful for different types of manifesting goals.
You will learn that you are the magic you have been waiting for.
Reviews
"Melissa - blown away by your book this afternoon - what an amazing job you've done! Each page is informative, inspiring and beautiful and the energy is fab! Thank you! Hope you're feeling very proud!"
"Congratulations. The book is stunning to look at and filled with an Aladins cave of magical ingredients. ❤️"
"Where can I get your other books, I got this one and it is awesome."