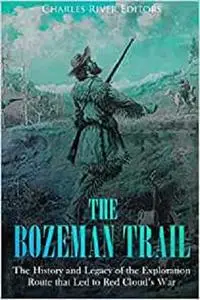 The Bozeman Trail: The History and Legacy of the Exploration Route that Led to Red Cloud's War by Charles River Editors
English | March 5, 2018 | ISBN: 1986154637 | 95 pages | EPUB | 1.05 Mb
*Includes pictures
*Includes contemporary accounts
*Includes online resources and a bibliography for further reading
*Includes a table of contents
"When the Great Father at Washington sent us his chief soldier to ask for a path through our hunting grounds, a way for his iron road to the mountains and the western sea, we were told that they wished merely to pass through our country, not to tarry among us, but to seek for gold in the far west. Our old chiefs thought to show their friendship and good will, when they allowed this dangerous snake in our midst. They promised to protect the wayfarers. Yet before the ashes of the council fire are cold, the Great Father is building his forts among us. You have heard the sound of the white soldier's ax upon the Little Piney. His presence here is an insult and a threat. It is an insult to the spirits of our ancestors. Are we then to give up their sacred graves to be plowed for corn? Dakotas, I am for war!" – Red Cloud
Even before the American Revolution, Americans traveled west. From the narrow strip of the 13 colonies, across the Appalachians, ever westward they journeyed, and by the end of the 19th century, the United States of America stretched from sea to shining sea.
Of course, just because the names on the borders changed, it did not tame the land or its previous residents. Americans desired California and Oregon, going to war for one and nearly going to war for the other. Once acquired, it now fell to the salt of the earth to settle these claimed lands, and everything in between. To do this meant crossing terrain unused to the heavy traffic of Westerners on the move.
Though Indian trails followed rivers, hills, and valleys across the plains, Westerners often needed to create new paths capable of handling the heaver traffic and bulky covered wagons. At the same time, safety often required avoiding the natives. Though sometimes co-opting Indian trails for this purpose, oftentimes pioneering settlers worked to avoid such routes as well, especially when the natives took exception to their new neighbors.
From this need came two adventurers determined to find a path north to the latest gold rush at the end of the road. Though such trails already existed, these two men forged a new trail, one that would bring a great deal of woe to the local natives. Why build such a trail through such a tumultuous land, exacerbating already tenuous relations with the natives and even souring those of the few the United States could call allies? As is often the case with such questions, the answer begins with geography, the greatest boon and bane to adventurers since mankind first started traveling.
The Bozeman Trail ran through the Powder River country, which included the traditional hunting grounds of Lakota, Cheyenne, and Arapaho peoples. Attempts by the natives to prevent encroachment and armed defense of settlers along the trail led to conflicts in short order. Shortly after the Civil War, the U.S. found itself engaged against the Sioux in what came to be known as Red Cloud's War, and after a series of battles, including the notorious Fetterman Massacre, the ongoing hostilities ultimately convinced American officials to head back to the negotiating table with the natives. As a result, Red Cloud has often been labeled the only Indian chief to win a war against the Americans.
The Bozeman Trail: The History and Legacy of the Exploration Route that Led to Red Cloud's War analyzes the forging of the trail and the impact it had on the region. Along with pictures depicting important people, places, and events, you will learn about the Bozeman Trail like never before.
Feel Free to contact me for book requests, informations or feedbacks.
Without You And Your Support We Can't Continue
Thanks For Buying Premium From My Links For Support