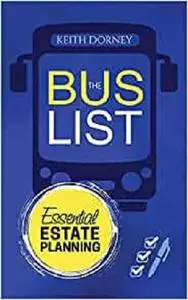 The Bus List—Essential Estate Planning: Including Wills, Trusts, Durable Powers, Beneficiary Deeds, TODs and PODs, Plus Organizing and Securing Your Records by Keith Dorney Books
English | October 4, 2017 | ISBN: 0991209931 | 134 pages | EPUB | 0.13 Mb
What if You Get Hit By a Bus?
If something unexpected happened to you (like getting hit by a bus), where does that leave your loved ones? You've got to take care of the "big stuff" now.
Estate planning is best done when it is not an emergency.
If it's urgent, you've waited too long.
Is Your Family Protected and Informed?
The Bus List's
three easy-to-follow sections are all about getting your own
Bus List
written. It cuts through the legal rigmarole and helps you get done what
needs
to get done:
Body
- Detail any last requests, including arrangements
Brains
- Appoint individuals to represent you
Bling
- Pass along your most valued assets seamlessly and inexpensively
Each section of
The Bus List
—Body, Brains and Bling—ends with a "Next Steps" checklist. Complete each applicable step, execute the appropriate documents and you're done.
Your Last Best Gift
Your
Bus List
makes it easier on your loved ones during a time of great sorrow and grieving. Everything they need to know, like last arrangements, location of important documents, and access to assets is right there in one place. Compiling your own
Bus List
is one of the kindest, most thoughtful gifts you can bestow on your surviving loved ones. Be sure and make it your last, best gift.
Part I of
The Bus List
was written with busy folks in mind who want to get their own estate plan in place as quickly and easily as possible.
More Estate Planning
After completing Part I and writing your own
Bus List
, take a deep breath and consider delving into other important estate planning topics in Part II:
Location of Your Bus List
Estate Liquidity
Federal Estate and Gift Tax
State Estate, Gift, and Inheritance Tax
Community Property vs Common Law States
Should I Hire an Attorney?
Easy-To-Understand Language
As far as confusing legal terms go, I apologize in advance for using some of them, but there is no getting around it. To help, I've compiled a comprehensive
Glossary
of those nasty words, where you'll find easy-to-understand and at times humorous definitions that will add to your breadth of understanding. You'll find it way more useful and entertaining than your dictionary.
I publish electronic and print-on-demand books for a reason: It's the only way to deliver the latest information to you, which has been changing a lot lately. I stay on top of things and update all my financial planning-related books, including this one, whenever necessary.
The Bus List—Essential Estate Planning
Remember, estate planning is best done when there is no urgency. Get started on your own
Bus List
now. Don't procrastinate any longer. Scroll to the top of the page and click the "Buy" button. Once you've got your
Bus List
written, you'll sleep a bit easier at night knowing you've got you've got the big stuff covered.
Feel Free to contact me for book requests, informations or feedbacks.
Without You And Your Support We Can't Continue
Thanks For Buying Premium From My Links For Support