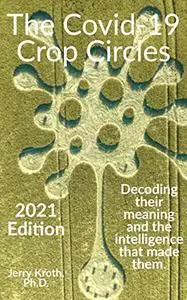 The Covid-19 Crop Circles by Jerry Kroth
English | June 28, 2020 | ISBN: N/A | ASIN: B08BZWBZRQ | 68 pages | EPUB | 2.28 Mb
The Covid-19 crop circle appeared May 30, 2020. Prof Jerry Kroth decodes the circle in consultation with a biologist, microbiologist, and virologist. The crop circle shows the virus at a magnification of 12 million and features an enlarged spike protein with a magnification 100x greater than that. The elongated spike protein displays either 8 amino acids or peptides which microbiologists refer to as "Sp8" in the literature. This is a spike protein found in SARS which has an unusual positive immunological function, and it may have that function in Covid-19 as well. In other words, the crop circle appears to be proactively suggesting remedies.
The body of the virus displays 3 small circles likely the three letters of RNA, while the larger 3 circles may represent nonstructural proteins (NSP)
This may be an extraterrestrial communication. Prof. Kroth has made this white paper available for other crop circle scholars (and intrepid scientists) in hopes they will further decode this amazing structure and expand the knowledge base while this global pandemic is raging.
On Aug 4, 2020 a second Covid-19 circle appeared, and an attempt is similarly made to decoded it. This putative extraterrestrial communication suggests that Juglones can suppress cytokine storms in Covid-19 and should be considered as a possible therapeutic. Dr. Kroth has made video lectures on these two circles which can be viewed at Youtube under the title "The Covid 19 Crop Circles"
Controversies and other interpretations are also discussed in this short book.
Feel Free to contact me for book requests, informations or feedbacks.
Without You And Your Support We Can't Continue
Thanks For Buying Premium From My Links For Support