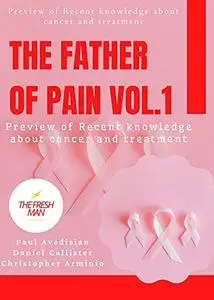 The Father of Pain: Preview of Recent knowledge about cancer and treatment by Paul Avedisian
English | 2021 | ISBN: N/A | ASIN: B09CWGCXW5 | 280 pages | EPUB | 0.58 Mb
How far do we have to turn cancer into a chronic disease?
I believe everyone feels that there are more and more cancer patients around.
In 2017, "Cancer" is a word that no one can avoid in life. China's latest cancer report points out that China has added more than 4 million new patients and 2.8 million deaths a year.
Age is the number one cause of cancer, and Chinese society is rapidly aging. Even if smoking and environmental pollution are not considered, the number of cancer patients will continue to increase in the next few decades. Our war with cancer is destined to be long and hard.
But what is the goal of the war?
In my opinion, it is not to eliminate cancer, nor to cure cancer, but to turn cancer into a chronic disease.
Eliminating cancer is not realistic. The vast majority of cancers are "senile diseases", which are the product of genetic mutations in the body's natural aging process. Just as we can't prevent the appearance of wrinkles and presbyopia, we can't develop vaccines to completely prevent the occurrence of mutations like we treat infectious diseases.
It is not realistic to cure all cancers. Indeed, there are many fresh examples of breast cancer, prostate cancer, thyroid cancer, lymphoma, leukemia and other patients who have successfully recovered after treatment and have a happy life. But this is only a "few". Cancer as a whole is still extremely stubborn. With current knowledge, regardless of Western medicine or Chinese medicine, curing most cancers is an impossible task.
Our real goal is to turn cancer into a chronic disease and control its development with drugs with small side effects.
Feel Free to contact me for book requests, informations or feedbacks.
Without You And Your Support We Can't Continue
Thanks For Buying Premium From My Links For Support