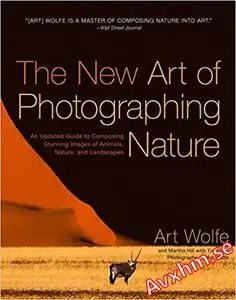 The New Art of Photographing Nature: An Updated Guide to Composing Stunning Images of Animals, Nature, and Landscapes by Art Wolfe
English | April 2, 2013 | ISBN: 0770433154 | 224 pages | AZW3 | 10 Mb
A new spin on the classic guide to composing stunning images of nature and wildlife
What is the difference between a good picture and a great one? In this fully revised edition of the classic bestseller
The Art of Photographing Nature,
master photographer Art Wolfe and former
Audubon
photo editor Martha Hill team up to explain the art of composing images of enduring beauty. Against a backdrop of more than 250 photographs of nature, wildlife, and landscapes, they share insights and advice about what works and what doesn't, and how small changes can take an image from ordinary to extraordinary. Throughout, all-new tips from digital imaging expert Tim Grey show readers how to make the most of digital technology, whether by choosing the right color space, understanding sensor size, or removing distracting elements in post-processing. The result is an invaluable collection of expert advice updated for the modern age.