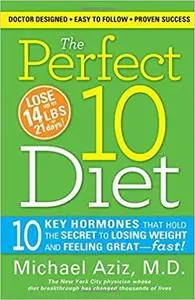 The Perfect 10 Diet: 10 Key Hormones That Hold the Secret to Losing Weight and Feeling Great-Fast! by Michael Aziz
English | January 1, 2010 | ISBN: 1581827040 | 464 pages | EPUB | 2.29 Mb
The latest medical research shows hormones are the key to weight loss. Your hormones control how your body uses the foods you eat, whether it's used for energy or stored as fat. The Perfect 10 Diet balances these key hormones so you:
* Lose weight fast without going hungry (hunger wrecks diets)
* Have more energy!
* Start to lose weight without exercising (up to 80 pounds)
* Reverse the aging process and look younger for life
What Doctors Are Saying About The Perfect 10 Diet
"The Perfect 10 Diet program finally answers many of the questions that you have always wanted to know about weight loss. If weight loss was just a problem of calories in and calories out, everyone would be the weight they want to be. Congratulations to Dr. Michael Aziz for bring us this informative book on answers to one of the biggest medical problems of our time."
—Pamela W. Smith, M.D., MPH
Director Masters Program in Medical Science with a Concentration in Metabolic and Nutritional Medicine, University of South Florida School of Medicine
" A must read. Dr. Aziz addresses how food interacts with hormones in this amazing book."
—Keith Berkowitz | MD, former director of the Atkins Center
" Filled with insightful science, presented in an accessible manner, to help you take action now."
—Ronald Klatz | MD, DO, president of the American Academy of Anti-Aging Medicine
Feel Free to contact me for book requests, informations or feedbacks.
Without You And Your Support We Can't Continue
Thanks For Buying Premium From My Links For Support