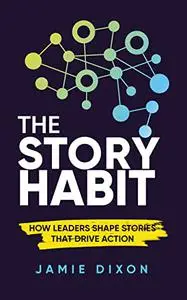 The Story Habit: How Leaders Shape Stories That Drive Action by Jamie Dixon
English | 2022 | ISBN: N/A | ASIN: B0B6BG7J92 | 270 pages | EPUB | 2.19 Mb
Storytelling makes the difference between a leader and someone who's just good at their job.
Leaders need to impact, influence and inspire action, which storytelling enables you to do.
But there's more to storytelling than JUST telling stories. Of far more relevance to leaders is the skill of SHAPING the stories people believe in. By shaping the narrative, you can shape the results.
This isn't a book about standing up on stage, telling a story and getting a round of applause.
This is a book about bringing more meaning to everyday conversations. It's about building the right habits to better impact, influence and inspire those you lead in everyday situations. These habits are what ultimately help you shape the stories people believe in.
The Story Habit is a practical approach to help leaders both tell and shape stories. It breaks storytelling down into three key skills, Relating, Challenging and Resolving.
Every story Relates to its audience, before presenting a Challenge, and finally a Resolution. And it just so happens that we can shape the stories people believe in through exactly the same process – by first Relating to their story, then Challenging it, and finally Resolving their barriers to action.
And the easiest way to master a skill is to start with habits. The Story Habit breaks the skills of Relating, Challenging and Resolving down into key habits that leaders can apply every day to start building these skills in the simplest way possible.
With The Story Habit, you'll not only be a skilled storyteller, but you'll also be able to shape minds.
Feel Free to contact me for book requests, informations or feedbacks.
Without You And Your Support We Can't Continue
Thanks For Buying Premium From My Links For Support