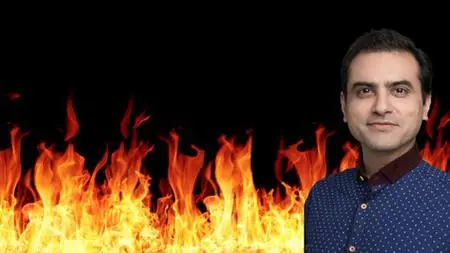 The Tibetan Way
MP4 | Video: h264, 1280x720 | Audio: AAC, 44.1 KHz
Language: English | Size: 957 MB | Duration: 49m
To Burn Your Past and Write Your Future
What you'll learn
The Tibetan way as shown by the masters to burn your past and write your future
5 ADVANCED STEPS that take you step by step towards creating an amazing life ahead.
Proven simple to do exercises to implement everything in this course.
Answers to why we are stuck in our past failures all the time.
Why & how, we ourselves, unknowingly blocked the Universal energy from working with us and not against us.
Why we are living a life with unfulfilled desires and feeling stuck in our lives all the time.
How to win over the feeling of lack and find solutions to our present problems.
Why we end up getting what we don't want, and know how to move towards getting what we really want in our life.
How to make our dreams come true in real time.
Requirements
A true desire to make your dreams come into reality-that's it
No Excuses
Description
What if you could be just ONE STEP away from making your dream life a reality and you could say loudly- WOW, IT REALLY WORKS!!!
No nonsense and No running around the bush course. Straight to the point and focused with just one aim- RESULTS.
If you are one of those people who love super hero movies and had ever wished to be a super hero yourself with all the super powers they have, then this is the course which guides you to get that super power.
This course has been guided by masters from Tibet and I have personally spent a long time learning the techniques from them and implemented in my life. So, rest assured this is not a nonsense course that is filled with tens of techniques and end up with no results.
This course was created for one sole purpose- to give people direction and bring them out of misery, suffering, fear and provide direction to achieve everything they deserve in life. The sole purpose is results.
If at some time in your life you had felt that are not satisfied in certain areas of our life, such as Finances,
Relationships,
Health,
Social Connections,
Time with family,
Career, or
Inner Satisfaction.
Then moving ahead and making it a reality yourself with the support of inner powers and universal powers both working together will become a reality now.
The masters have said one thing that makes this course special- "Life is simple and so are the solutions to our problems".
But, if you keep doing things as you have been doing so far, then you will keep getting the same results as you have been getting so far.
We all want a lot of dreams of ours to come true, but it doesn't happen as we wish. The masters ask us one question right now- Do you know why? The answer is because what we wish for, we don't believe in its fulfilment. The universe simply says- "So be it".
This course gives you simple step by step solution to overcome all that has disturbed you till now, all that has brought fears and confusions inside, so that you gain back the inner strength to move forward. The masters say that till you are not able to burn your post, you cannot move ahead with full force. The solution is not in the future, but in the past.
It's time to change the past, so that we can write our future.
This super charged course gives you 5 easy to do steps and requires maximum 7 days to complete. But by the end of it, your past will be burnt thus leaving you with the super powers to manifest anything in life after that.
This course has no knowledge sharing, but straight to the point solutions mode. You will be able to see results while doing the exercises and see changes happening within yourself, and then around you in the physical manifestation too.
I have been sharing this course in Asia for the past 8 years now and I am loved everywhere I go because people have been following the steps as given in the course and all of them have said just one thing till now- The Tibetan way Really Works!!!
So be open minded and be part of this life changing journey.
This course is for you if
You have unfulfilled desires around creating wealth, good health, awesome Relationships, satisfying Career or a hunger for inner development.
You are struggling to bring your life to the level that you feel you deserve but you don't know why you can't open the lock on your door of your desires.
You have tried many techniques before, felt exhausted after few days, because you could not carry on due to its complexities and long commitments that was practically impossible.
In this course you will learn
Why we are failing in our life so far.
Why we feel stuck in our life all the time.
Why we are suffering while others are having such a wonderful life.
Why it has been so difficult to make your dreams a reality and not been able to get what you deserve.
How to burn your past and get that inner strength to win over your present problems and limitations
How to make our dreams and desires a reality.
How to stop failing and start winning the game of life.
The course will provide you 5 step formula of the Tibetan masters. The formula was shared in the bestselling book "The Tibetan way" by Jain Sumeet, and this course shares all the techniques of that book.
The eastern masters in Tibet as well as in India have been telling us that we can get anything we want only if we follow some universal rules. We live in a world where science keeps proving a lot of these teaching through research, thus giving us proof of what these masters have been telling us for centuries. Quantum Physics is one such study which also proves that we can create anything that we desire if we follow certain principles of physics.
There is one study that said that 80% books bought are never read. Also, more than 95% people who attend workshops or take courses, never open their notes after coming back to their lives. They will start with full enthusiasm and after a few days will give up in between. If you are also falling in this category of people, then I can assure one thing, it doesn't work like that. My sincere advice to you is to follow each step with full sincerity, and you will see results in fulfilment of your desires in first few days itself.
The course is very simple to follow for anyone. Each step is explained in full details and outlines what, how and how many times each step needs to be done. The purpose is results and we will only work on getting the results. The result we are working on in this course is to get our dreams and desires fulfilled.
This course also touches on the no 1 reason why manifestation / law of attraction/ The Secret doesn't work for most people in this world. This course will not only tell what and why it doesn't work, but will also tell you how to make it work in the future.
This course provides you all the tools you require to get your dreams into reality in the physical world. The key to success is transformation. We will not work on changing anything, but on transformation. Why transformation? Because change is temporary but transformation is permanent. So, the course is thriving for transformation so that it gets imbedded in our soul for ever.
By the end of this course, the masters will make sure that you start the journey of reaching your goal of a fulfilled life and leave your old unfulfilled life behind for ever. You will be able to get the universal powers to start working jointly with your inner powers like a team. In most cases, our students have seen outstanding results within first few days only and see their list of desires getting shorter and shorter. This becomes possible once they have successfully burnt their unfulfilled past. This creates some space within for the energies to start flowing, thus activating the inner powers to make our dreams into reality.
As shared above, this course is no moving around the bush. The sole purpose of the Tibetan masters is to see results in our life. So, they always prefer moving straight to the point. IN this course, they have spent just few minutes on explaining why we fail in life, and then move towards the 5-step winning formula so that you can get towards results fast.
How do you know if this course is for you?
Let me make it easy for you to take this decision.
Right now, simply investigate your life recently and ask yourself- "Am I satisfied with the way things are going on right now in my life? Am I achieving all that I desire in my life? Am I getting what I deserve in this life"?
Create an image of your life in your minds mirror and ask yourself, "If I keep on carrying on as I have been carrying on till now, how is my life going to be in the next 1 year"?
If you find that your life is not as great or accomplishing as you desire and deserve, and you feel you are kind of stuck in a vicious circle of failures and disappointments, but deep inside you still have that craving to get what you want and you still have that little ray of hope that you can get it, but don't know how, then this course is for you.
The Tibetan masters have been practicing the principles of this course of thousands of years and they guarantee that if you follow each step of this course, you will get instant results. The 5 steps as shown by the masters are simple, profound and result oriented. The 5 steps are not religious in nature in any way. They are based on Universal principles and scientific, so anyone can practice them.
The course will teach you how to burn your past unfulfilled life and create a fulfilling life as you want in the future. The purpose is to become masters of our life and destiny. This can be achieved by getting our super powers back once again.
So, again, ask yourself
"As I look back into each area of my life, am I satisfied from my results"? How many classes I have attended or listened to in order to get results in certain areas of my life?
Am I going to carry on in the same circle of failures again and again as before?
Am I prepared to bring a small change within myself, so that I give myself permission to attract a different result in my life also?
The masters say just one thing- You get what you are. So, ask yourself. What have I become? Because what you have become, you will attract the same in the material world.
You make a promise to transform yourself, the outer results will change automatically- without efforts. This course will guide you to do that. It will guide you to transform yourself by burning your past and helping you to write your future!!
I hope you are ready for it!
Who this course is for
You have unfulfilled desires around creating wealth, good health, awesome and loving Relationships, satisfying Career or a hunger for inner development.
You are struggling to bring your life to the level that you feel you deserve but you don't know why you can't open the lock on your door of your desires.
You have tried many techniques before, feel exhausted after few days, because you could not carry on due to its complexities and long commitments that was practically impossible.