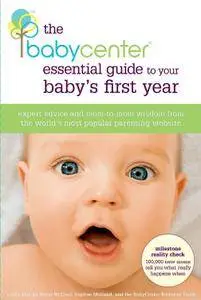 The BabyCenter Essential Guide to Your Baby's First Year: Expert Advice and Mom-to-Mom Wisdom from the World's Most Popular Parenting Website y Linda J. Murray, Anna McGrail, Daphne Metland, The BabyCenter Editorial Team
English | July 24th, 2007 | ASIN: B004GKLMR0, ISBN: 159486411X | 480 Pages | EPUB | 5.18 MB
An incomparable guide to every aspect of caring for an infant during the first year, jam-packed with the expert advice and real-world, mom-to-mom wisdom that makes BabyCenter the world's number-one online parenting resource.
First-time moms and dads all share the same concern: Is my baby happy, healthy, and behaving normally? Through extensive research, the trusted editors at BabyCenter, the world's number-one parenting website, have created the ultimate bedside companion for new parents. This book (featuring all new content never before seen on the Web site) draws on nonjudgmental voices of BabyCenter's team of advisors and the experiences of millions of parents to paint a detailed, accurate, and helpful picture of a newborn to 12-month-old.
In it you'll find:
• Step-by-step guides to the "firsts," including first feeding, first diaper change, first bath, and more
• BabyCenter buzz: helpful advice from BabyCenter moms from all walks of life
• Milestone reality checks: results from BabyCenter's exclusive survey of more than 100,000 parents about what really happens when in their baby's development
• Decision guides: pros and cons of breastfeeding vs. formula feeding, cloth vs. disposable diapers, and more
• Just for dads: involved dads find all the help they need to truly co-parent from day one
• Essential health guide helps anxious new parents spot and treat the most common illnesses of the first year