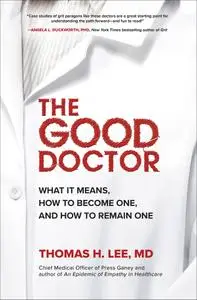 The Good Doctor: What It Means, How to Become One, and How to Remain One by Thomas H Lee
English | November 15th, 2019 | ISBN: 1260459209 | 208 pages | EPUB | 1.47 MB
What does it mean to be a good doctor today?
Dr. Thomas Lee, a renowned practicing physician, healthcare executive, researcher, and policy expert, takes us to the frontlines of care delivery to meet inspiring, transformative doctors who are making a profound difference in patients' lives—as well as their own. These revealing, intimate profiles of seven remarkable physicians are more than a reminder of the importance of putting patients first. They provide an invaluable working model of what it means to be a good doctor, how to become one, and how to remain one for the benefit of patients and colleagues alike. It's a model that sustains physicians themselves over years and decades, combating the constant threat of burnout.
These stories capture the daily challenges every caregiver faces—while highlighting the amazing personal triumphs that make their jobs so rewarding. You'll meet Dr. Emily Sedgwick, the breast radiologist who redesigned screening techniques to reduce patients' fears; Dr. Merit Cudkowicz, a neurologist who is leading the way in ALS research and treatments; Dr. Mike Englesbe, a transplant surgeon who is improving how physicians prescribe analgesics in response to the opioid epidemic; Dr. Laura Monson, a pediatric plastic surgeon addressing the long-term social effects of cleft palates; Dr. Lara Johnson, a primary care physician dedicated to providing care to the homeless; Dr. Joseph Sakran, a trauma surgeon who started a movement among healthcare providers to curb gun violence, and Dr. Babacar Cisse, a neurosurgeon who was an undocumented alien and once worked as a restaurant busboy, and epitomizes what it means to be a "Dreamer." Their stories are not only powerful but offer practical lessons and insights into developing high reliability cultures, resilience, and improvement mindsets. This is what is takes to be a good doctor.
Enjoy
My Blog
. No any convert or low quality!