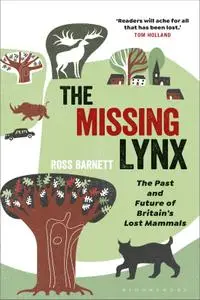 The Missing Lynx: The Past and Future of Britain's Lost Mammals by Ross Barnett
English | January 5th, 2021 | ISBN: 1472957342, 1472957350 | 352 pages | True EPUB | 5.62 MB
Britain's lynx are missing, and they have been for more than a thousand years. Why have they gone? And might they come back?
A mere 15,000 years ago, Britain was a very different place – home to lions, lynx, bears, wolves, bison and many more megafauna. But as the climate changed and human populations expanded, changing habitats and wiping out wildlife, most of the British megafauna disappeared. Will we ever be able to bring these mammals back? And if it's possible, should we?
In The Missing Lynx, palaeontologist Ross Barnett uses case studies, new fossil discoveries, biomolecular evidence and more to paint a picture of these lost species, and to explore the significance of their disappearance in ecological terms. He also discusses how the Britons these animals shared their lives with might have viewed them, and questions why some survived while others vanished.
Barnett also looks in detail at the realistic potential of reintroductions, rewilding and even of resurrection, both in Britain and overseas, from the innovative Oostvaardersplassen nature reserve to the revolutionary Pleistocene Park in Siberia, which has already seen progress in the revival of 'mammoth steppe'.
With the world going through a 'sixth extinction' caused by widespread habitat destruction, climate change and an ever-growing human population, this timely book explores the spaces that extinction has left unfilled, in Britain and elsewhere. By understanding why some of our most charismatic animals are gone, we can look to a brighter future, perhaps with some of these missing beasts returned to the land on which they once lived and died.
Enjoy
My Blog.
No any convert or low quality!