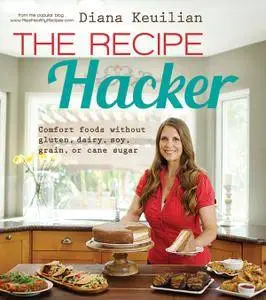 The Recipe Hacker: Comfort Foods without Soy, Dairy, Cane Sugar, Gluten, and Grain by Diana Keuilian
English | December 9th, 2014 | ASIN: B00QR1KN6W, ISBN: 146211539X | 200 Pages | EPUB (True/HQ) | 26.04 MB
Break the recipe code for your favorite foods!
Free of grains, gluten, dairy, cane sugar, and soy, The Recipe Hacker is a mouthwatering collection of your favorite comfort foods with a healthy twist. Learn to use easy ingredient substitutions to transform traditional dishes into real, healthy comfort food masterpieces, without sacrificing any of the flavor!
Enjoy healthier, whole-food versions of
• Key Lime Pie
• Crispy Orange Chicken
• and Banana Pancakes
Step-by-step photos, dozens of recipes, and delicious flavors will keep you coming back for more. Enjoy all the comfort foods you crave and keep your body (and skinny jeans) happy at the same time!