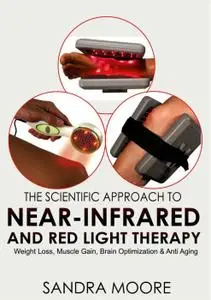 The Scientific Approach to Near-Infrared and Red Light Therapy: Weight Loss, Muscle Gain, Brain Optimization & Anti-Aging by Sandra Moore
English | August 13th, 2018 | ISBN: 1386808962 | 144 pages | EPUB | 0.33 MB
DO YOU KNOW THAT LIGHT HAS THE POWER TO HELP YOU LOSE WEIGHT, HEAL YOUR BODY AND OPTIMIZE YOUR HEALTH?
It is true that almost everyone knows the potency of vitamin D from sunlight (from UV light). But only a few are aware that there is another type of light that may be just as crucial to our health, and that is red and near-infrared light.
Probably you have heard about the amazing benefits of red light therapy or seen ads of different devices. But you are still wondering that this might just be hype. Believe it or not. Currently, over 3000 scientific studies are proving the powerful health benefits of red and near-infrared light therapy. And this book has been written to open up your understanding of these studies and how you can use this light to optimize your health.
Here is a preview of what you will learn:
• What is red light therapy and the reason you need it
• How does red light therapy works
• Amazing benefits of red light therapy such as weight loss, muscle gain, testosterone boost, anti-aging, heals pain and inflammation, brain booster, etc.
• How to purchase a good red light therapy
• Most common questions and answers
• Much, much, more!
Every fact in this book is backed by scientific research, and the author includes references that the reader can check to clear his/her doubt. Get this book into your shelve now, and you will be glad that you did.
Enjoy
My Blog
. No any convert or low quality!