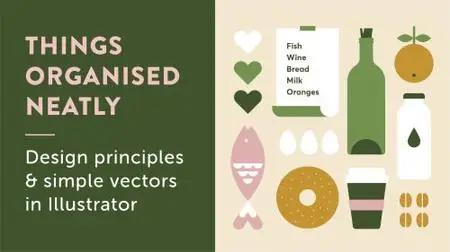 Things Organised Neatly: Design Principles & Simple Vectors in Illustrator
Duration: 2h 4m | .MP4 1280x720, 30 fps(r) | AAC, 48000 Hz, 2ch | 718 MB
Genre: eLearning | Language: English
Learn Design Principles and the Essential of Vector Drawing in Illustrator.
The skills you learn in this class are essential in creating unique icons, illustrations and assets for your projects. No pen tool required!
I created this class to help beginner designers see how easy it can be to create a beautiful composition of elements. Working only with basics shapes and the pathfinder palette as well as the design principles of balance, hierarchy, alignment and contrast.
Some times you just need a little project to follow along with, to practice and hone your skills, we will work through some research and a bit of theory to help you understand why you are making certain choices in your design.
You will choose a theme, it could be the items on your shopping list, your favourite biscuits, fruit, anything you like really, the challenge will be reducing those items to their simplest form, we will work with minimal colours and a pattern swatch to fill the drawings, with the final output being all your illustrated elements organised neatly in a square composition, (perfect for sharing on instagram) 
Chapter 1: Research• Choose your theme and get your research together
Chapter 2:  Drawing Essentials in Adobe Illustrator• The workspace• Setting up your file• The basic shapes and drawing your first illustration• Using the Pathfiinder and Shape modes to create more complex shapes• Alignment and Distribution• Anchor point tool
Chapter 3: Design Principles Learn the basics of Balance, Hierarchy, Alignment and Contrast so you can apply them to your final arrangement.
Chapter 4: Final ArrangementArrange your illustrations and add color and a pattern swatch, work with the design principles in mind, and export as a Jpeg ready to share on Instagram.• Color: Global Color, Color Guide, Edit Color Palette• Simple Pattern Swatch
Below are some example slides of what we work through in this course:
Your final piece will be a square composition of all your drawings arranged neatly.  (Please share it with me!)
You will choose a theme and research the elements you want to draw, getting a few examples to help you determine the most common visual aspects.
Draw your elements using the Basic Shapes in Adobe Illustrator and the Pathfinder and Shape Modes - NO PEN TOOL REQUIRED!
Learn some of the basics of the Design Principles you will use when arranging your elements.
Balance