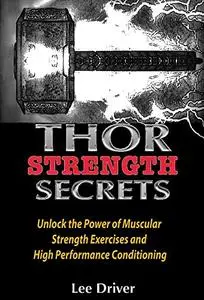 Thor Strength Secrets: Unlock the Power of Muscular Strength Exercises and High Performance Conditioning by Lee Driver
English | 2016 | ISBN: N/A | ASIN: B00Q9EQBOA | 64 pages | EPUB | 0.26 Mb
Picture adding 30 pounds of lean, rippling muscle onto your body in just a matter of weeks. Sounds incredible? Yet that was the challenge faced by actor Chris Hemsworth when the head honchos in Hollywood wanted him for the latest Thor epic. So how did the Aussie star do it?
Unmasking the caped superhero's strength training routines, we reveal:
The regimen that created a Toccoa titan, and learn how it helped this humble teenager gain 85 pounds! The Thor actor would make this exercise the lynchpin of his workouts,
The team of heroic Albuquerque firefighters who helped rebuild the body of a colleague who had undergone knee and shoulder surgery using ONE special exercise. This key move would blowtorch body fat from Hemsworth's frame, giving him that lean, Hollywood look,
The exercise guaranteed to catapult your training gains and transform your body literally overnight. Here is what the Director of Custom Athletics said, "Master this exercise and you'll be well on your way to becoming a weight-room god." The Aussie star used this lift to create a rugged, muscular physique,
Discover how the world's strongest pound-for-pound man can add brawn on your biceps. Hemsworth followed in this Bronx bull's footsteps to grow his gargantuan guns,
Learn a simple way the Melbourne muscleman transformed one of the most basic and elementary of activities into a high performance conditioning badass. These muscular strength benefits can be yours too.
Peruse the most brutal and effective strength and conditioning aid ever invented. Heralding from the Scandinavian pine forests, this peerless powerhouse prompted strongman Jim Wendler to say, "It is awesome." Hemsworth used this move to develop powerful arms, legs and his lower back.
Muscular Strength Exercises
You will also get to read about the mighty muscular strength exercises that went onto build a Thunder God. With each chapter, you'll hear from the strongmen behind the exercises, as we unlock the strength training tips and tricks guaranteed to put a thunderbolt under your bodybuilding.
Feel Free to contact me for book requests, informations or feedbacks.
Without You And Your Support We Can't Continue
Thanks For Buying Premium From My Links For Support