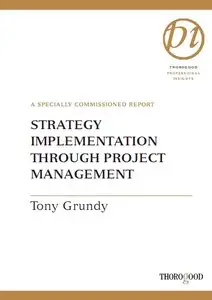 Tony Grundy - Strategy Implementation Through Project Management
Thorogood | 2003 | ISBN: 1854182501 | Pages: 150 | PDF | 1.23 MB
Far too few managers know how to apply project management techniques to their strategic planning. The result is often strategy that is poorly thought out and executedand a business that could perform so much better with the benefit of the right techniques.
Strategic project management is a new and powerful process designed to manage complex projects by combining traditional business analysis with project management techniques.
The aim of this valuable Report is to equip all managersof whatever disciplineto manage projects more effectively. The strategic management process contains five key stages, which the Report explains clearly and in detail: managing strategic business projects; linking projects with business strategy; strategic project definition; project strategy and plan; strategic project control and learning.
The Report will enable you to apply project management techniques successfully not just at the level of business strategy but also to operational change programs and even to more tactical programs aimed at improving short-term performance. As an extra benefit, Appendix I provided extensive checklists dealing with a whole variety of strategic projects and Appendix II offers guidance on diagnosing team roles within a project.