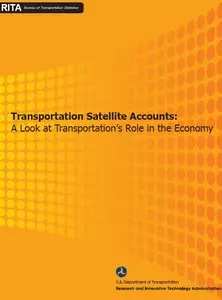 Transportation Satellite Accounts: A Look at Transportation's Role in the Economy
TRB, National Academy of Sciences | 2011 | ISBN: n/a | 60 pages | PDF | 1 MB
This report explores transportation satellite accounts (TSAs). TSAs provide a means for measuring the contribution of transportation services to the national economy.
According to the BTS, prior to the TSAs, the magnitude of transportation services had long been underestimated, as most national measures counted only the value of for-hire services.
Measurement of services provided only by for-hire firms misses the sizable contribution of transportation services that take place within non-transportation industries, termed as in-house transportation.
Table of Contents
Summary
Introduction
Purpose of the TSAs
Measures of Transportation Activities
Conceptual Overview of the TSAs
Components of the TSAs
Make Table
Use Table
Direct Requirements Table
Industry-by-Commodity Total Requirements Table
Methodology
Methodological Overview
Changes in Method in the 1997 TSAs and Comparability
The Role of Transportation in the Economy
Findings From 1997 TSAs
Comparison of 1997 TSAs to the 1992 TSAs
Introduction
Findings from the 1997 and 1992 TSAs
Future Work
with TOC BookMarkLinks