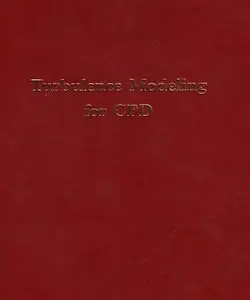 David C. Wilcox, "Turbulence Modeling for CFD"
DCW Industrie | 1993 | ISBN: 0963605100 | 460 pages | Djvu | 10,1 MB
Customer Reviews:
Turbulence Modeling for CFD April 16, 2009
Alireza Najafiyazdi (McGill, Montreal, Canada)
It is really a great book and a must-to-have for anyone who is doing CFD. Turbulence modeling is well explained with sufficient physical background. A great job indeed.
Excelent book ! March 5, 2009
Paulo Rocha (Brazil)
If you study CFD for any real problem, Wilcox book is a must-read option. It covers the basics of turbulence modeling without being simplistic and get into the 'complicated' things in a didactic manner. Different from many others classic books, that cover an issue deeply, every chapter has a problems section at the end. This is very important for the book to be adopted in classroom.
Great Book for Anyone Doing CFD Research October 28, 2007
Penn State Fan (California, USA)
2 out of 2 found this review helpful
Having learned fluid mechanics from this author's fluid mechanics text I was really happy when I discovered that he had written a book on the topic I need in my work. There is no other book like this one. It explains why some models do so poorly while others do very well. Wilcox teaches you how to analyze turbulence models to discover why they predict what they do. The boundary layer code on the CD is the best I've ever used and is truly industrial strength. Although the numerics in the Navier Stokes code are a little dated, the program is extremely accurate for the flows it was designed for – supesonice and hypersonic. Best of all, the software on the CD is very easy to use beacuse of the Visual C++ pre and post processors. This is a fabulous book that should be on the book shelf of every serious CFD researcher.
Truly a Classic, Outstanding Book October 21, 2007
CFD Fan (CA, USA)
2 out of 2 found this review helpful
This book is one of a kind and reflects the depth of the author's knowledge and understanding of the field. The third edition includes most of the important developments in turbulence modeling, including a remarkably accurate version of the k-omega model that Wilcox has introduced in this edition. All of the software is extremely easy to use and even includes a Navier-Stokes code. This is a must-have book for anyone interested in CFD applications.
very comprehensive November 4, 1998
3 out of 13 found this review helpful
Carries almost everything one needs to know ab't Turbulent flows, but it should have more space devoted to Chaos and non-linear dynamics.
Not all books on AvaxHome appear on the homepage.
In order not to miss many of them follow
ebooks section
(see top of each page on AH)
and visit
my blog
too :)
NO MIRRORS according to the rules