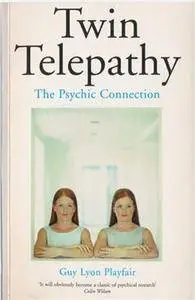 Guy Lyon Playfair - Twin Telepathy: The Psychic Connection
Vega | 2002 | ISBN: 1843336863 | English | 164 Pages | PDF | 3.3 MB
Without warning, a healthy man feels a suffocating pain in his chest. Hundreds of miles away at the same moment, his identical twin suffers a heart attack. Elsewhere, a woman is deep in labor, while across the continent her twin sister feels contractions rippling across her own flat back and belly. Twin telepathy has long been a source of wonder, and recently a series of original research studies was commissioned to probe this psychic connection. The startling findings are presented here, including powerful evidence of a genuine telepathic link. Incidents of shared emotions, thoughts and tactile sensations, and even such extreme physical manifestations as bruising or burning were all documented, and the nature of telepathy itself is revealed in the words of real men and women who experienced these sensations firsthand. Their experiences will amaze and inspire you even as they challenge accepted notions of individuality and the bonds that tie us.