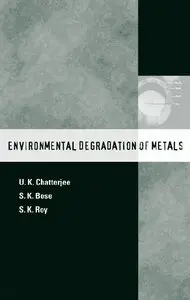 U.K. Chatterjee, S.K. Bose - Environmental Degradation of Metals
CRC | 2001 | ISBN: 0824799208 | Pages: 510 | PDF | 4.58 MB
This highly practical reference presents for the first time in a single volume all types of environmental degradation a metallic compound may undergo during its processing, storage, and service. Clarifying general and localized corrosion effects, Environmental Degradation of Metals describes the effects of atmospheric exposure, high-temperature gases, soil, water, weak and strong chemicals, liquid metals, and nuclear radiation. It determines whether corrosion can occur under a given set of conditions, shows how improvements in component design can reduce corrosion, and details the high- and low-temperature effects of oxidizing agents. The book also investigates the instantaneous and delayed failure of solid metal in contact with liquid metal, highlights the influence of hydrogen on metal, and profiles radiation effects on metal.
Thanks to original uploader!

Do you know only a small part of all books is visible on the AvaxHome Homepage (@ Home)?
To see all of them use
eBooks
category.
If you enjoy my books look at my
…::No mirrors, please::…