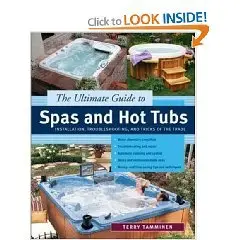 Terry Tamminen, "The Ultimate Guide to Spas and Hot Tubs : Troubleshooting and Tricks of the Trade"
Publisher: McGraw-Hill Professional | 2005 | ISBN 0071439218 | PDF | 320 pages | 5.5 MB
Product Description:
If you are thinking about getting a hot tub or spa - or already own one - here is the best investment you can make. There's no greater luxury than relaxing in your own hot tub or spa. If you'd like to take the plunge with confidence - and not get soaked - let Terry Tamminen, "poolman to the stars," show you how to do it yourself and save thousands.Terry helps you select, purchase, install, repair, maintain, and upgrade all types of spas and hot tubs. You get parts and tools lists, tricks of the trade for each procedure, and a difficulty rating to help you decide if it's time to call a professional. Invite the neighbors to enjoy your new spa or hot tub! This title helps you with: selecting the right spa or hot tub (from over a dozen types) for your site, budget, and individual needs; and, realistic cost estimates. It features: easy-to-understand, photo-illustrated installation and repair guides; and, simple-to-build decks and enclosures for added enjoyment, privacy, and value. It offers information on: heating inexpensively and heater repair; automatic cleaning; water chemistry made easy; winterizing sources of cost-saving generic parts; and, more!
Summary: bad support……….
Rating: 1
Software appears to work, but I was unable to update it because of a malfunction. Do Not expect help form the vendor, as a matter of fact you will be fortunate to recieve an answer from them. In short buy at your own risk!!!
Summary: Useful for maintenance, not for purchase of a spa
Rating: 3
This is helpful to understand the operations and "guts" of a hottub/spa, but not helpful in making decisions on which brand or type to buy initially. Once you have one, it is helpful in doing repairs yourself, and optimally maintaining it.
Summary: Easy to read and understand. It answered all my questions.
Rating: 5
I own all of Tamminen's excellent pool and spa books. While I'm not a pool professional, I am a do-it-yourself person. Any question I have about installation, maintenance, and upkeep, I find the answers in Tamminen's books. I recommend this book to anyone with a spa or a hot tub. You'll find what you're looking for every time.
Summary: Don't waste your money on this one
Rating: 1
If you are looking for info on Spas and Hot Tubs, don't buy this book.
Most of the info and photos are for Pools and the info on pools is outdated. The only time you see spas explained is when they are part of a pool!
This looks like a 1970's book on Pools reprinted with a new cover showing spas. I was looking for info on Portable spa heaters and pumps. The book goes into great detail on gas!!! fired water heaters, and concrete???? spas!!!!
For all of you Portable spa owners…….beware!!!!!!