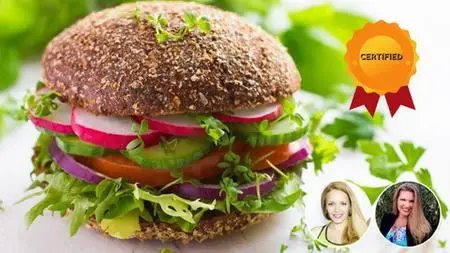 Vegan Nutrition Health Coach Certification
Last updated 11/2021
MP4 | Video: h264, 1280x720 | Audio: AAC, 44.1 KHz
Language: English | Size: 8.27 GB | Duration: 6h 45m
Become a Vegan Nutrition Certified Health Coach, Learn Vegan Cooking, Embrace a Holistic Approach to Food
What you'll learn
You will learn how to turn your passion for a healthy vegan lifestyle into a profitable coaching business to help others overcome their health challenges.
You will be able to communicate effectively about nutrition and healthy eating as a vegan coach in this certification course.
You will learn to set goals and implement winning action plans with your clients who want to eat a healthy vegan diet, and live a holistic lifestyle.
You will learn how to help your clients get the lasting transformation they are seeking using holistic vegan nutrition and meal planning.
You will be able to design custom nutrition packages with recipes, shopping, cooking and time saving strategies for yourself and your clients.
Requirements
The desire to advocate a nutritious vegan lifestyle for yourself and to help others reach their health goals.
The desire to live according to (vegan) values of health, vitality and compassion while helping others understand its many benefits on the human body.
The ability to download or print out the materials offered in the course.
Description
Welcome to the Vegan Cooking and Nutrition Health Coach Certification Course!Are you passionate about Vegan health and nutrition?Do you want to learn more about nutrition and proudly construct delicious vegan meals that increase nutrient bioavailability?Are you excited about the principles of a plant-based lifestyle and you want to become an expert in applying vegan principles in your daily food choices while helping to guide others on how to do this in a healthy, holistic way while preventing setbacks? Do you want to help people enhance their well-being, improve their quality of life, prevent and reverse weight gain and inflammation, reduce cholesterol and live a happy, healthy lifestyle by helping them implement Vegan cooking and nutrition in their daily routine?Would you like to learn whole foods vegan recipes and powerful health coaching tools, as well as deep, specialized and insightful details about adopting a vegan approach to life, about the vegan nutrition and vegan foods in order to help your clients reach their weight loss and overall wellness goals?Would you like to implement a ready-made wholesome 2-week vegan meal program that is also soy and gluten free for yourself and your clients by earning a Vegan nutrition and health coach certification?<<<<<<<<<<<<<<<<<<<<<<<<<<<<<<<<<<<<<<<<<<<<<<<<>>>>>>>>>>>>>>>>>>>>>>>>>>>>>>>Being healthy and living a happy and fulfilled life, respecting all life forms and living in harmony is the ultimate goal for billions of people worldwide, making it the perfect time to earn a vegan nutrition health coach certification by enrolling and becoming a Certified Vegan Nutrition Health Coach.Information that becomes the catalyst for adopting a vegan lifestyle resonates with different people, and our purpose in this course is to empower you with sound plant-based and vegan nutritional education to support them in that journey to a healthy way of living in accordance with those values. Because vegan is not synonymous with healthy, just as plant-based is not synonymous with vegan. And as a well rounded health coach, it's important for you to know the distinctions and overcome the obstacles.In this course, we address the complexity of being a health coach for vegan clients, if not a vegan health coach yourself. Here are just a few of the topics we will touch:the common myths and misconceptions about a plant-based diet and a vegan mentalitythe different nutrients and what are the best plant sources for themhow to buy, store and cook vegan foodif you are a new vegan, how to make it taste like the comfort food you are used to since childhoodfood supplementssoygluten-freeherbsvegan and a healthy gutraw vs cookedbuilding muscle and losing weight as a plant-based advocatebeing vegan at different ages and its implicationsadopting a plant-based diet and different common health conditionsIN THIS COURSE YOU WILL:Develop a strong foundation of health theory related to health and nutrition, especially focused on the details of being vegan and the natural, healthy choice of not eating any animal products, so that you can be a confident and effective nutrition health coach. Learn core, professional health coaching skills, such as how to communicate effectively, to set realistic and achievable goals and to develop a long lasting rapport with your vegan health and nutrition clients, work together to set achievable goals, and support them using powerful knowledge and life skills.Develop a strong understanding of the vegan lifestyle so that you can help your clients get the results they want, avoid relapse, and overcome resistance so they can create lasting health changes in their lives.<<<<<<<<<<<<<<<<<<<<<<<<<<<<<<<<<<<<<<<<<<<<<<<<>>>>>>>>>>>>>>>>>>>>>>>>>>>>>>This nutrition and health vegan certification program will give you everything you need to design your own vegan nutrition, vegan cooking and health coaching packages based on your own experience and knowledge in the areas of vegan health and wellness that you are passionate about.At the end of the course you will be a Certified Vegan Cooking Nutrition Health Coach and you will become an advocate for healthy living, a health educator, and an active partner that helps each client unlock their potential through plant-based healthy food and life choices.<<<<<<<<<<<<<<<<<<<<<<<<<<<<<<<<<<<<<<<<<<<<<<<<>>>>>>>>>>>>>>>>>>>>>>>>>>>>>>In summary, this vegan cooking and nutrition certification will provide the following:This vegan nutrition and vegan cooking and health coaching certification will assist you in creating a step-by-step vegan Nutrition program to use with your clientsThis nutrition health certification program will give you the tools to design a vegan custom health coaching package that is focused and in alignment with YOUR unique passion for the vegan, plant-based diet and how it can change the lives of so manyYou will also develop a thorough understanding of nutrition, nutrient density, macronutrients, micronutrients, and dieting, with an emphasis on the Vegan nutrition, the vegan cooking Diet and the natural plant-based foods.Learn health coaching skills and the key elements of behavioral change and how to motivate your clients to achieve their vegan, health, nutrition, and life goals and prevent relapse.This vegan nutrition and health certification will leave you feeling confident as a Vegan Lifestyle, vegan cooking and nutrition health coach because you have developed a strong foundation both of theory and practical application.By earning your Vegan Cooking and Nutrition Health certification you will also have the credibility that your clients are looking for by being able to say that you are a Certified Vegan Cooking Nutrition and Health Coach.<<<<<<<<<<<<<<<<<<<<<<<<<<<<<<<<>>>>>>>>>>>>>>>>>>>>>>>>>>>>>>>>>>>This course is offered to you by Mystic Core Movements LLC and taught by Sanda Kruger and Stephanie Harter. Students who complete this course will receive an official health coaching certificate offered by Mystic Core Movements, a private fitness and wellness company based in The United States of America. Sanda Kruger has more than 20 years of experience in the fitness and health industry for both adults and children, is an expert in the Ketogenic Diet, a nutrition health coach and retired professional dancer. With a Bachelor Degree in business, she is a certified health and fitness professional with AFAA and AEA and is the creator of the 21 Day Ketogenic Diet Program for Losing Weight and of two original fitness programs, called BellyCore® Fitness and AquaCor®. During her fitness and wellness coaching career, through private classes, master classes, workshops and coaching groups, Sanda Kruger has helped and taught thousands of students in both health and nutrition.Even though fairly new on Udemy, since August 2018, Sanda is an instructor of other health, fitness and nutrition certification courses created either by herself or with amazing partners: Natalie and Joeel Rivera, two of the top life coaching instructors on Udemy with over 60 courses and 70,000 students; Terez Hartmann, the amazing Firewoman, published author, speaker, Law of Attraction expert and BellyCore(R) Fitness Certified Instructor. Stephanie Harter is the author of the book The Skinny On Eating Like You Give A Damn. She is passionate about the power of a wholesome vegan lifestyle in all areas of life, including physical, mental, emotional and spiritual. Stephanie holds a degree in Education, and is a graduate of the T. Colin Campbell Center of Nutrition Studies at eCornell. She is also a graduate of Quantum Leap with Success Resources, and holds multiple certifications as a Trainer, Coach, and Mentor in the areas of Business and Professional Development. As an educator, author and speaker, Stephanie is committed to helping others experience freedom from dieting by connecting to their power to make a difference as a rebel for compassion for optimal health and vitality.Mystic Core Movements LLC is currently in the process of obtaining international accreditation for its health and fitness coaching courses. We are looking forward to seeing you in the course!
Overview
Section 1: Introduction
Lecture 1 Who needs a vegan health and nutrition coach?
Lecture 2 Introduction to the Vegan Health Coach Certification Course
Lecture 3 Who Is This Course For and What To Expect?
Lecture 4 Health Benefits of Shifting to a Whole Foods Vegan Lifestyle
Lecture 5 Meet the Instructors - Stephanie
Lecture 6 Meet the Instructors - Sanda
Lecture 7 What are Health and Wellness?
Lecture 8 What Does A Vegan Health Coach Do?
Lecture 9 What can a health coach actually do about nutrition?
Lecture 10 Health Coach Disclaimer and Code of Ethics
Section 2: Welcome to the Plant-Based Lifestyle!
Lecture 11 Vegan, Vegetarian and Plant-Based - What's the difference?
Lecture 12 The History and Popularity of Veganism
Lecture 13 Myths and Misconceptions: "A vegan diet is unsafe for pregnancy and children"
Lecture 14 Myths and Misconceptions: "Athletes and Bodybuilders can't build muscle…"
Lecture 15 Myths and Misconceptions: "Vegans can't get enough protein."
Lecture 16 Myths and Misconceptions: "Vegans eat too many carbs which is unhealthy…"
Section 3: Introduction to Plant Based Nutrition
Lecture 17 The Truth About Soy
Lecture 18 A Whole-Foods, Plant Based Approach
Lecture 19 Nutrient Density and Bioavailability
Lecture 20 Best Plant Protein Sources
Lecture 21 Plant Based Macronutrients: Carbohydrates, Protein and Fats - Overview
Lecture 22 Best Vegan Food Options
Lecture 23 Best plant fat sources
Lecture 24 Plant Based Micronutrients: Vitamins
Lecture 25 Plant Based Micronutrients: Minerals
Lecture 26 Dietary Supplements for Optimal Health
Lecture 27 Vitamin B-12
Lecture 28 Omega-3 Fatty Acids
Lecture 29 Vitamin D
Lecture 30 Raw vs. Cooked Foods
Lecture 31 Complete Protein from Whole Plant Foods
Lecture 32 Protein Powders: Yay? Nay? or "No Whey!"
Lecture 33 Basic Vegan Nutrition for Special Conditions
Lecture 34 Healthy Gut and Digestion
Lecture 35 Avoiding Gas and Bloating
Section 4: Detailed Main Nutrient Sources
Lecture 36 So, what does a vegan eat?
Lecture 37 Fruits and Vegetables and their Role in a Healthy Vegan Diet
Lecture 38 Nuts, Seeds and Dried Fruit
Lecture 39 Legumes (beans, lentils, peas, peanuts)
Lecture 40 Grains
Lecture 41 Herbs and Spices
Lecture 42 Hydration for a Healthy Body
Lecture 43 List of Most Popular Vegetables and Their Carbohydrate Content
Section 5: Vegan Shopping and Cooking
Lecture 44 Shopping Whole Food Plant-Based
Lecture 45 Simple Cooking Methods
Lecture 46 Holiday Tips + Don't Like to Cook Tips
Lecture 47 Meal Prep Tips for your Plant-Based Kitchen
Lecture 48 Batch Prepping and Cooking to Save Time
Lecture 49 Storing Food
Lecture 50 Easing Into Conscious Living
Lecture 51 3 Tips for Instant Success at Home as a Healthy Vegan
Lecture 52 Tips for Eating Vegan Away from Home
Lecture 53 How to Recognize Non-Vegan Ingredients Hidden on Food Labels
Section 6: 2 Weeks Vegan Meal Plan to Get You and Your Clients Started
Lecture 54 Getting You Started!
Lecture 55 Recipes - Week 1
Lecture 56 Recipes - Week 2
Section 7: COACHING SKILLS: Identifying Your Unique Position
Lecture 57 Identifying Your Team
Lecture 58 How to Communicate Effectively With Your Team Members
Lecture 59 Know Your Own Strengths - SWOT Analysis
Lecture 60 Understand Your Clients - DISC Personality Model
Section 8: Coaching Skills: Setting Achievable Goals
Lecture 61 Why Do Goals Matter?
Lecture 62 Setting Meaningful Goals
Lecture 63 Health Goals with an Emphasis on the Past
Lecture 64 Health Goals with an Emphasis on the Present
Lecture 65 Health Goals with an Emphasis on the Future
Lecture 66 Small Changes Lead to Big Results
Lecture 67 Celebrate With Your Clients
Section 9: Coaching Skills: How to Report and Connect with Your Clients
Lecture 68 What is your personal Why?
Lecture 69 How to Make a Positive First Impression
Lecture 70 Active Listening Skills
Lecture 71 Ask the Right Questions
Section 10: Client Assessments
Lecture 72 Assessing Readiness to Change
Lecture 73 Assessing Body Composition and Discussing it with Your Clients
Section 11: Conclusion and Closing
Lecture 74 Congratulations from Sandy
Lecture 75 Congratulations from Stephanie
Lecture 76 Contact Your Instructors
Lecture 77 How to Receive Your Official Certificate
Lecture 78 BONUS: Additional Resources You Don't Want to Miss!
Lecture 79 References and Resources
You, if you want to be an advocate for healthy vegan living.,You, if you are or want to become a profitable health coach to guide others on their path of adopting a whole foods vegan lifestyle as a holistic approach to food, weight-loss and disease prevention.,You, if you would like to improve your overall health through nutrition, improve gut and brain health, reduce or eliminate the inflammation in your body, and reduce risks for modern diseases.