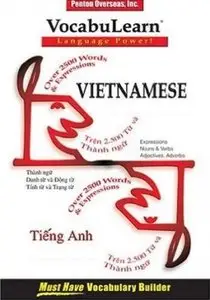 Vocabulearn Vietnamese: Level 1+2
Audio CDs: English / Vietnamese: MP3, 64 Kbps (1 channels) | Duration: 6 hours | 2005 | ISBN-10: 1591255090, 1591255104
Overal size: 116 MB | Genre: Learning Vietnamese | Level: From Beginner to Intermediate
Easy and effective, VocabuLearn presents useful vocabulary words (the building blocks of language) and expressions designed to greatly increase comprehension and improve pronunciation of the foreign language. Plus, VocabuLearn's unique reversible/bilingual format allows non-English speaking students to learn English in the same way English speakers learn the target language using the same cassettes and word lists. Level One emphasizes basic vocabulary and simple expressions.
Download other Vietnamese courses:
Vietnamesepod101
Learn Vietnamese: Vocabulary 2001
Colloquial Vietnamese
Teach Yourself Vietnamese
Le Vietnamien sans Peine
Learn Vietnamese: Vocabulary (Mac Os X)
Look here other linguistic courses:

My News