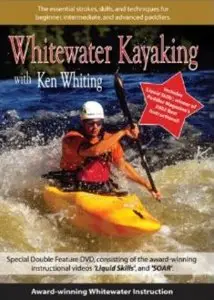 Whitewater Kayaking with Ken Whiting
DVD5 | NTSC 4:3 | (720x480) | MPEG2 ~4724 kbps | English: AC3, 256 kb/s (2 ch) | ~2 hour | 4.05 GB
Whitewater Kayaking with Ken Whiting is a special, double feature DVD consisting of the award winning video Liquid Skills (2002 Paddler Magazine's Best Instructional), and the video SOAR – Skills On All Rivers. Together, these videos cover an awesome set of skills guaranteed to improve your paddling, whether you're just beginning to kayak, a competent paddler looking for that edge, or a highly experienced paddler looking to kick bad habits. Two great videos for the price of one!
Liquid Skills:
An award-winning instructional video of beginner and intermediate whitewater kayaking technique.
- Covers all the fundamental strokes, skills, concepts and moves.
- Provides an awesome foundation for beginners entering the sport, and a huge help for experienced paddlers wanting to kick bad habits.
SOAR:
A cutting edge instructional video of intermediate and advanced whitewater kayaking technique.
- Looks closely at the essential strokes, river running techniques, creekboating techniques, big water paddling techniques, and river safety issues.
- Provides amazing insight into how to get the most out of your kayak. Your paddling is guaranteed to improve, and your confidence on challenging whitewater will SOAR!
Welcome to the best movies collection (English, German, French language), best software, best eLearning video and many-many more:
LINK
Do not forget to check my blog! Updated regularly!