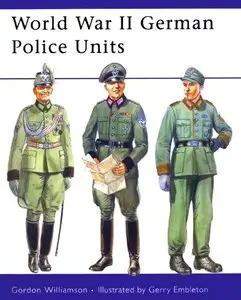 World War II German Police Units (Men-at-arms 434) By Gordon Williamson
Publisher: Os Publishing 2006 | 48 Pages | ISBN: 1846030684 | PDF | 31 MB
The wartime Police were headed by Himmler as chief of the SS; and throughout the occupied nations the regional SS commanders were specifically termed 'Higher SS and Police Leaders'. It was not a single service, but a vast machinery which included many special categories - from conventional criminal detectives, municipal and rural police; to many police combat battalions sent to Russia; to border and customs police, and special railway and waterway departments; to fire brigades and emergency engineer squads, and even a colonial service for North Africa. The purpose of this title is to explain the complex organization and the particular duties of the different branches which formed such a critical part of the Nazi apparatus and ensured that control was maintained inside Hitler's Fortress Europe. Painstaking research by the author has unearthed fascinating information about the Police organizations their many different uniforms and insignia, which are illustrated in the colour plates.
NO PASSWORD


!!!No Mirrors below, please! Follow Rules!