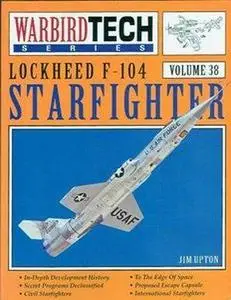 Jim Upton - Lockheed F-104 Starfighter
Speciality Press | 2004 | ISBN: 1580070698 | English | 105 pages | PDF | 32.53 MB
Warbird Tech Series Volume 38
The F-104 Starfighter was one of the most successful and prolific jet fighters of the late '50s and early '60s - and one of the most beautiful. It was the first production Mach 2 aircraft, and it rewrote the performance books for speed, altitude and time to climb. Aircraft enthusiasts called it "the missile with a man in it". After its initial flight in 1954, the F-104 program produced more than 2,500 aircraft, making it one of the largest military aircraft programs ever. F-104s flew for the US and many NATO allies, and were eventually produced under license in Canada, Japan, and several European countries. In fact, Italy is still flying updated F-104s in 2003. This book covers this revolutionary aircraft's design and development, its weapons and other systems, and all 18 models of the F-104, complete with photos of each variant. NASA-modified research craft are also discussed, along with several formerly classified programs based on the F-104. Author Jim Upton was one of the F-104 program's flight test engineers, so he knows the aircraft and the people involved. Includes a foreword by Dick Heppe, retired president of Lockheed California, and chief aerodynamicist of the F-104.