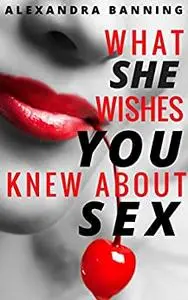 What She Wishes You Knew About Sex: A Man's Guide to Becoming a Great Lover by Alexandra Banning
English | 2016 | ISBN: N/A | ASIN: B01AX7CHBO | 80 pages | EPUB | 0.17 Mb
Ever wondered what a woman is thinking about when she's about to have sex? Want to be a better lover, boyfriend, husband?

You can be the World's Greatest Lover. You don't need to memorize the Kama Sutra or be Casanova or have dozens of partners. You just need to find out what women really want in bed.
This book is compiled from frank conversations with women who shared their secret desires. They told the author all about the sort of secret, sexy, unforgettable things that they crave, and the unforgettable men who knew how to make love like no one else.
Do you want to learn more about pleasuring women, about how you can touch her so she will cry out your name in ecstasy? It doesn't matter if you're a virgin who wants to learn how to do it right the first time, or a husband wanting to spice up your sex life with your wife. A few new ideas, and your game plan can take on a whole new dimension.
Disclaimer: This book uses frank language, including slang. It is intended for adults only.
Feel Free to contact me for book requests, informations or feedbacks.
Without You And Your Support We Can't Continue
Thanks For Buying Premium From My Links For Support