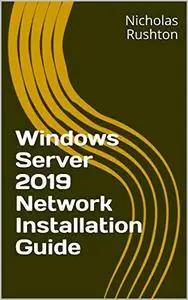 Windows Server 2019 Network Installation Guide
English | 2018 | ASIN: B07KN6QWS7 | 250 pages | EPUB, PDF, AZW3 | 20.15 MB
Updated for 2020.
The aim of this very accessible guide is to take the reader through a typical installation of a small Windows Server 2019 network and is written for the following audiences:
•Someone who is new to Windows Server 2019 and installing it for the first time
•Someone setting up Windows Server 2019 in a small business setting
•Someone wishing to learn the basics of Windows Server 2019 and who wants a succinct, practical guide based on real world scenarios
The approach is very much practical and hands on. It should give you a basic understanding of Windows Server and help you setup a network that should meet the needs of a typical small organization such as a business, non-profit, church, school and so on. However, it is not intended as a detailed description of all Window Server's many capabilities or as a reference manual and is not aimed at enterprise installations involving large numbers of servers and techniques such as virtualization. It assumes a reasonable working knowledge of Windows and the basics of networking. It is written in a friendly, "do-it-like-this" style, rather than with undue emphasis on theory and abstract topics, and contains over 180 illustrations and screenshots
Contents:
1. INTRODUCTION
1.1 What is Windows Server 2019?
1.2 A Typical Small Network
1.3 The Server
1.4 Switch and Wireless Access Points
1.5 Client Devices
2. BASIC INSTALLATION AND CONFIGURATION
2.1 Overview
2.2 Installing Windows Server
2.3 Setting the IP Address
2.4 Naming the Server
2.5 Creating a Domain
3 STORAGE
3.1 Overview
3.2 Two Disk Drives
3.3 Single Disk Drive
3.4 RAID
3.5 Storage Spaces
4. SHARED FOLDERS
4.1 Overview
4.2 Creating Shared Folders
4.3 Loading Existing Data into Shared Folders
5. USERS
5.1 Overview
5.2 Creating Users
5.3 Resetting a Password
5.4 Disabling an Account
5.5 Deleting an Account
5.6 User Groups
5.7 Home Folders, User Profiles and Logon Scripts
5.8 Editing Multiple Users Simultaneously
6. CONNECTING DEVICES TO THE SERVER
6.1 Overview
6.2 Adding a Computer to the Domain
6.3 Connecting Computers with Home Editions of Windows
6.4 Connecting Macs
6.5 Connecting Linux Computers
6.6 Accessing the File System with File Browser
7. BACKUPS AND RESTORES
7.1 Overview
7.2 Configuring Backups for the Server
7.3 Backup Performance Settings
7.4 Restoring Files to the Server
7.5 Backing up the Server to a NAS Drive
7.6 Backing up Computers to the Server
8. PRINTING
8.1 Overview
8.2 Networked Printer
8.3 Shared Printer via Server
9. REMOTE ACCESS: VPN & CLOUD SERVICES
9.1 Overview
9.2 Installing & Configuring Remote Access
9.3 Configure the Router
9.4 Enabling Remote Access for Users
9.5 Connecting Client Computers
9.6 Checking and Monitoring Remote Users
9.7 Using Dropbox with Windows Server
10. GROUP POLICY
10.1 Overview
10.2 Group Policy Management Console
10.3 Specifying the Home Page
10.4 Windows Logon Behavior
10.5 Logon Warning/Security Message
10.6 Changing the Password Policy
10.7 Account Lockout Policy
10.8 Redirect the User's Documents Folder
10.9 Configure Wireless Settings
11. HOUSEKEEPING
11.1 Overview
11.2 Shutting Down & Restarting the Server
11.3 Windows Updates
11.4 Event Viewer
11.5 Windows Security
11.6 Virus & threat protection
11.7 Firewall & network protection
11.8 Checking Disk Space
11.9 Optimizing the Hard Drives
11.10 Task Manager and Resource Monitor
11.11 Headless Operation using Remote Desktop
12. WINDOWS ADMIN CENTER
12.1 Overview
12.2 Installation
12.3 Tools within Windows Admin Center
13. MISCELLANEOUS & ADVANCED TOPICS
13.1 Overview
13.2 Windows Activation
13.3 Setup Alternative Administrator Account(s)
13.4 Accessing the Internet from the Server
13.5 Controlling User Logon Times
13.6 Controlling Server Manager Startup
13.7 Diagnostics & feedback
13.8 Ease of Access
13.9 Installing DHCP
13.10 Multiple Network Adapters (NIC Teaming)
13.11 Adding Additional Servers