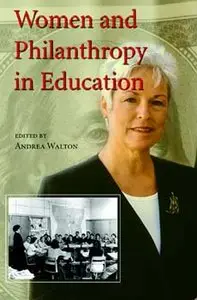 Andrea Walton, "Women And Philanthropy In Education"
Publisher: Indiana University Press | 2005-03-30 | ISBN 0253344662 | PDF | 360 pages | 1.3 MB
This book illuminates the philanthropic impulse that has influenced women's education and its place in the broader history of philanthropy in America. Contributing to the history of women, education, and philanthropy, the book shows how voluntary activity and home-grown educational enterprise were as important as big donors in the development of philanthropy. The essays in "Women and Philanthropy in Education" are generally concerned with local rather than national effects of philanthropy, and the giving of time rather than monetary support. Many of the essays focus on the individual lives of female philanthropists (Olivia Sage, Martha Berry) and teachers (Tsuda Umeko, Catharine Beecher), offering personal portraits of philanthropy in the 19th and 20th centuries. These stories provide evidence of the key role played by women in the development of philanthropy and its importance to the education of women.