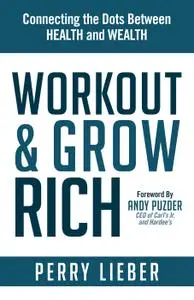 Workout & Grow Rich: Connecting the Dots Between Health and Wealth by Perry Lieber
English | October 1st, 2018 | ISBN: 1630477184 | 130 Pages | EPUB | 3.28 MB
Create a healthy culture for success in work and life with advice from an elite personal trainer and president of FoundWellness: the Workplace Workout.
As a personal trainer, Perry Lieber has been part of his clients' successes, and he knows that working out is linked directly to better performance in the workplace. In Workout and Grow Rich, Lieber explores that link to its fullest extent, teaching readers what it means to be truly rich in every definition of the word. There have been many books written about how to lead a more successful and fulfilling life, but there are few to none that claim working out as the secret to discovering that success.
Workout and Grow Rich takes readers on a step-by-step journey to learn the same techniques used by athletes, corporate leaders, and celebrities to incorporate personal fitness into their busy schedules. As a workplace expert himself, Lieber knows the difficulties associated with maintaining a healthy lifestyle. In Workout and Grow Rich, he includes interviews with some of his most successful clients, like Greg Renker, founder of Guthy-Renker, and Mark Bissell, CEO of Bissell, to tell readers directly how Lieber's strategies improved their lives.