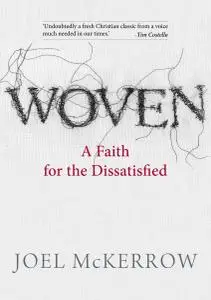 Woven: A Faith for the Dissatisfied by Joel McKerrow
English | November 15th, 2019 | ISBN: 0647530325 | 242 pages | EPUB | 1.09 MB
'This book is about Jesus. It is about my journey toward Jesus. Which may sound strange to some of you, but it is true. It is a journey of losing a Jesus that was too small and looked way too much like me, to a Jesus that began to mesmerise me. A Jesus calling me to something much grander and more holistic and more inclusive than I had thought possible. A Jesus who was drawing me into the true and into the beautiful.'
This is not a book of cookie-cut spirituality. It is not a book of answers, nor programmable spiritual growth. This book is a question. An invitation. A beckoning toward movement and a faith that can weather the storms of life.
In Woven, Joel McKerrow dares to put forth that our questions, struggles and doubts are not something to be feared, but may actually provide us with the path toward a vibrant faith. Joel takes us on a pilgrimage, from childhood belief to grief over a lost religion, to a richer, more sustaining faith that was previously unimaginable to him.
This is a demanding and compelling account of what it means to rethink our Christian beliefs and find both a restoration and a reconstruction into the expansiveness of God's story.
Enjoy
My Blog
. No any convert or low quality!