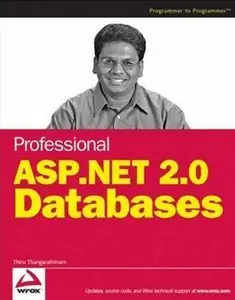 "Professional ASP.NET 2.0 Databases" by Thiru Thangarathinam
Wrox | 2007 | ISBN: 047004179X | Pages: 504 | PDF | 30.24 Mb

Now you can uncover the secrets behind accessing and retrieving data from a wide range of data sources such as SQL Server and XML sources. This book walks you through the array of ADO.NET 2.0 features and clearly shows you how they can be used to develop database-driven web applications in ASP.NET.
You'll first gain an in-depth understanding of the data source controls that enable data binding in the ASP.NET platform. Next you'll uncover the advanced features of ASP.NET, including site navigation, implementing sorting and paging, and editing data in templates. You'll then focus on designing transactions in ADO.NET 2.0, displaying data, and utilizing SQL Server 2005 XML.
Throughout the chapters, you'll find examples and source code (with ASP.NET examples written in C#) that you can integrate into your applications. This will enable you to leverage ADO.NET and ASP.NET features so you can easily create a scalable N-Tier web site.
Some of the topics covered include:
* ASP.NET 2.0 Data Controls
* Data Binding with the SqlDataSource Control, XML Data, and Objects
* Selecting, Updating, Deleting Records
* Programmatically Creating and Adding Controls
* XSL Transformations with XmlDataSource Control
* Using Generics with the ObjectDataSource Control
* ASP.NET 2.0 Site Navigation including Implementing Breadcrumbs and Binding to Other Controls
* Displaying and Editing Data Using Templates
* GridView Sorting and Paging
* Advanced Data Source and Data-Bound Controls including Master/Detail Display, Displaying Images from a Database, and Using Themes with Data Bound Controls
* Transactions in .NET and Interoperability between System.Transactions and System.EnterpriseServices
* Advanced ADO.NET for ASP.NET Data Display including DataSet Object, ADO.NET 2.0 DataTable, and Provider-Independent Data Access Code
* Accessing Data from SQL Server 2005 including CLR in SQL Server 2005, New XML Features in SQL Server 2005, and Working with XML Data-Typed Columns from ADO.NET
* N-Tier Architecture with ASP.NET 2.0 and SQL Server 2005
* Best Practices for Creating ASP.NET Web Sites including Implementation of CLR Stored Procedures and Implementation of Layers